Portrait of the co-founders of AFRIBON,IPAE 2's new investment
Submitted by

Admin

on Tue, 10/30/2018 - 17:18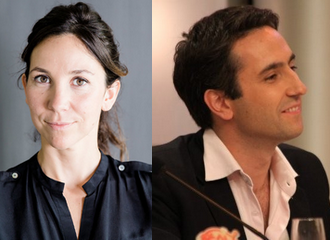 English
The company AFRIBON, specialized in the creation and marketing of food flavors, is one of the first investments of the fund I&P Afrique Entrepreneurs 2 (IPAE 2). Created in 2012 by Julien Giuge and Anne Merienne, AFRIBON is currently the only company to produce locally and offer a tailor-made service to its customers, including notably manufacturers of beverages, biscuits and dairy products.

Read more about AFRIBON
About the Entrepreneurs
Julien GIUGE is the co-founder and Managing Director of AFRIBON. He graduated from ESSEC and worked for nine years in China, where he was for three years the manager of the Chinese subsidiary of the AROMATECH Group, a French group specialising in the production of flavours and fragrances.
Anne MERIENNE is the co-founder and Director of the Kenyan sector. A graduate of ESCP, she has worked in China and the United Arab Emirates for the Beaumanoir group and the Accor group on management control and business development positions.
---
Questions to Julien GIUGE and Anne MERIENNE
What is the origin of the project? Why the choice to create your company in Africa in particular?
Julien Giuge: Before starting the AFRIBON adventure, I had several years of experience in the food flavours sector: as Director of the Chinese subsidiary of Aromatech, a French flavours company, and as Business Development Manager in South Korea and Taiwan of Mane, the leading French group in the sector. These two experiences have allowed me to identify new opportunities, especially in Africa, where this profession is still quite new.
Anne Merienne: Competition in the sector is still relatively low in the countries where AFRIBON is setting up, and yet the growth potential is considerable: population growth and urbanisation promise a boom in local agri-food processing industries.
AFRIBON is developing its activities in several African countries (Cameroon, Kenya, Rwanda, Tanzania, and Uganda). Why this choice of regional development and what are the challenges involved?
J.G.: Thanks to its multi-local approach, AFRIBON enjoys a strong competitive advantage. However, it is more complex to operate with several structures!
A.M.: East African countries (Kenya, Uganda, Rwanda, Tanzania and Uganda) have established a common market, but implementation is slow and there are many barriers still in place. Markets are still fragmented and the way of doing business differs greatly from one country to another. Even the tastes of the customers are very different: a taste that is appreciated in Uganda may not necessarily be appreciated in Tanzania, for example. It is therefore difficult to replicate a model from one country to another.
J.G.: Air connections between the main cities are still very expensive. At the moment there is no synergy between East African countries and Cameroon: road transport is not possible, and maritime transport would be longer and more expensive than a European shipment.
What are the future projects for AFRIBON, and the issues of the partnership with I&P?
A.M.: Over the next few years, I&P will support us in strengthening and diversifying our activities. It will also support the expansion of the group in new countries. We are notably targeting two promising markets: Ethiopia and Nigeria.
J.G.: We are currently launching a new product line integrating locally produced fruit pulp. We support all local food processing industries and the applications are unlimited. For example, we observe that the demand for natural flavours is increasing, and this is a production that we will probably develop in the coming years!
Anne, you took part in the seventh annual training seminar for I&P's entrepreneurs: what lessons have you learned?
What I get out of it is above all the very positive feeling of joining a large family of African entrepreneurs! The exchanges with the I&P team and the portfolio entrepreneurs were very rich. It is very stimulating to interact with entrepreneurs who are facing the same issues.