Portrait of Folly Koussawo and Seydou Beye (TRIANON BTP)
Submitted by

Admin

on Thu, 04/23/2015 - 16:58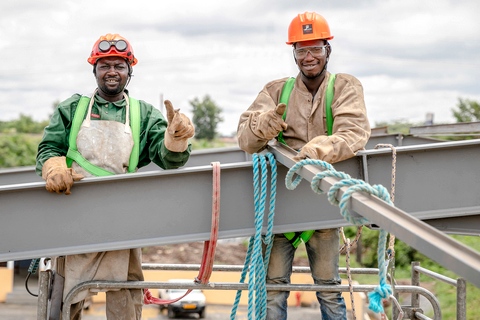 English
TRIANON BTP Gabon is a construction company created in 2012 by a young team of Gabonese professionals, Folly Koussawo and Seydou Beye. Both of them have been studying and working in France before returning back to Gabon to start TRIANON BTP. We have asked some questions to Folly Koussawo, executive chairman of Trianon.
TRIANON heads to a position of gap-filler upon the local construction market, as a small-sized company with tailored medium contracts offering the same quality standards than the largest contractors. The company is already considered as a major actor on the market for highly-demanding private and public clients (National Real Estate Company, French Ministry of Defense, French Foreign Ministry…)
Before starting his company in Gabon, Folly Koussawo has worked more than ten years with highly-recognized groups operating in the real estate sector. He started his career as auditor at Grant Thorton and then worked as Program Manager at Kaufman & Board. He notably managed the construction of near 4,000 houses within a local state housing program. Folly Koussawo graduated from the IPAG and from the Ecole Nationale des Ponts et Chaussées in Real Estate management.
Seydou Beye joined the project TRIANON BTP since the very beginning and became Folly Koussawo's associate. He holds a Degree in civil engineering and a Specialized Master in construction companies' management at the ESTP Paris. He worked as a civil engineer at AXEO (GDF-SUEZ group) and as project manager at Agap2 consulting, an European engineering and operations consulting company.
A few questions to Folly Koussawo

You spent many years in France, for your work and for your studies: what drove you to start your own company in Gabon?
I worked more than 7 years at Kaufman & Broad Homes, where I managed particularly interesting projects. With the team Ile de France, we built about 800 housings per year.
But I've always been amazed, every time I travelled to Gabon and Togo, by the poor quality of urban facilities. The idea that I could be more useful to my country and continent has progressively emerged. This is the reason why I decided to come back to Gabon and start the project TRIANON.
How did you meet Seydou Beye, your associate on the project?
I was just starting to work on Trianon Homes, a real estate development company. But I quickly became aware of the great challenges facing the real estate sector: land tenure insecurity, complex juridical framework, funding difficulties... I therefore decided to move Trianon towards the construction sector and to launch TRIANON BTP. In this new configuration, I needed a very good and competent technician.
I met Seydou Beye while he was pursuing a Specialized Master at the ESTP, after a first experience as civil engineer. Marcel Peyrache, who was teaching at the ESTP, introduced to M. Beye, one of his best students at the time. I invited M. Beye to visit me in Gabon and I presented the project. He became my Associate and Technical Director.
What have you learnt from your partnership with Investisseurs & Partenaires so far?
I met I&P thanks to Gibraltar Advisory, a financial advisory firm dedicated to Africa and the Middle East. We had a first and decisive meeting with Pierre Carpentier, investment manager at I&P.
The partnership with I&P changed many things for TRIANON BTP. The due diligence conducted by the team put in evidence the elements we had to improve. We also benefit from the external perspectives brought by the Board of Directors: it helped us determine the best strategy and we are now able to plan the future of TRIANON with more confidence.
What are your mid and long-term projects for Trianon?
First of all, we are consolidating what we have achieved so far in Gabon. In the longer term, we are considering extending to other countries of the region to develop our activities.