A successful crowdfunding campaign for Eden Tree
Submitted by

Admin

on Thu, 12/20/2018 - 17:25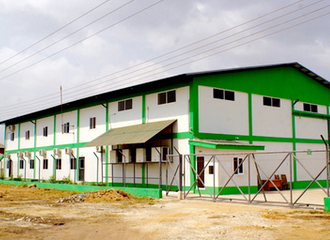 English
Eden Tree recently completed a crowdfunding round of €30,000 in 4 days to install a solar plant for its factory in Accra, Ghana.
This crowdfunding platform was provided by Ecoligo Investments, a crowdinvesting platform for renewable energy projects initiated by ecoligo GmbH with a focus on developing and emerging countries.

Access crowdfunding campaign
Eden Tree Ltd. is a leading producer of high quality fresh vegetables, fruits and herbs in Ghana. The company aims to promote healthy eating habits in the country by producing, packaging and delivering high quality vegetables, fruits and herbs to the Ghanaian market. Founded in 1997 by Catherine Krobo Edusei, the company sources its products from its own farms and smallholders in the Volta and eastern regions of Ghana.
Eden Tree has decided to use solar energy. With a total output of 23.4 kWp, the planned photovoltaic system will supply the production hall in the capital Accra. This not only reduces electricity costs, but also the company's CO 2 emissions by around 17% Tons of CO 2 a year.
"At Eden Tree, we see good nutrition as the key to a prosperous, prosperous economy, we take our role in promoting a healthier Ghana seriously, and we take pride in providing fresh products that promote healthy eating habits, innovation and environmental protection in our business Integrating has always been important - using solar energy not only fits in well with the values ​​of Eden Tree, but will also help us to grow and create more employment opportunities"

Catherine Krobo Edusei, CEO of Eden Tree
"Sustainable agriculture is not just about environmentally friendly farming practices, but about efficient and ecological processes from cultivation to plates, and Eden Tree embraces this ethos at every stage of the value chain and sets a high standard for other companies in the industry. Cutting down CO 2 emissions and the company's energy costs will enable Eden Tree to thrive economically while maintaining its core values​"

Martin Baart, CEO ecoligo GmbH
Read more
• Crowdfunding campaign on Ecolingo