Supporting Ivorian SMEs: A Review of 20 Years of I&P activities
Submitted by

Admin

on Thu, 06/09/2022 - 18:50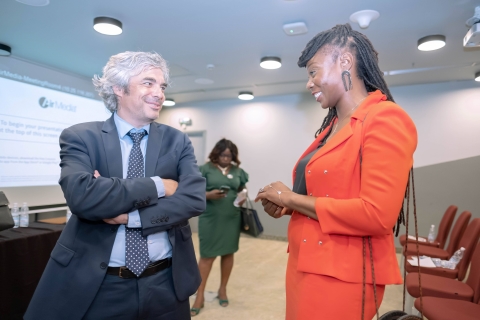 English
This year, Investisseurs & Partenaires (I&P) is celebrating its 20th anniversary!
For this occasion, I&P organized a meeting in Abidjan at the beginning of June in order to gather all its partners and companies and to present an overview of its achievements in Côte d'Ivoire.

Read the press release
20 years of funding and supporting African SMEs that create impact on the continent
This meeting, which gathered more than 150 people, was an opportunity to review the various activities of I&P in Côte d'Ivoire, and more broadly on the African continent.
Since the opening of its office in 2014, I&P has financed 30 Ivorian companies in more than 8 sectors of activity (agribusiness, digital and tech, energy, education, finance, health, services, textiles).

"I&P office in Côte d'Ivoire is our largest office, surpassing even our original office in Paris. 30 people work there, in all the businesses developed by I&P. Above and beyond these borders, I&P is now a largely African group with 130 people, spread over 10 sites in Africa from Dakar to Tananarive to Madagascar. We have now supported more than 200 SMEs, from start-ups to more mature companies."
Sébastien Boyé, co-founder, I&P
A panel discussion dedicated to financing SMEs and start-ups in Côte d'Ivoire
The event continued with a theme entitled "Engaging with Ivorian SMEs: How to improve access to funding ?". Under the moderation of Paola Audrey Ndengue, journalist, entrepreneur and editorialist, several stakeholders were able to share their experience on financing issues:
Djibril Doumbia, Principal at Comoé Capital, the first impact fund in Côte d'Ivoire and member of I&P group
Fatoumata Sissoko-Sy, Africa Regional Director at Proparco
Sara Adico, Founder of La Coccinelle daycare network, financed by the I&P group (I&P Development range)
Moulaye Tabouré, CEO and Co-founder of the e-commerce platform ANKA, financed by I&P (I&P Expansion range)
Fatoumata Sissoko-Sy, a long-time partner of I&P, through the funding of several programs (IPDEV 2, IPAE, Afrique Créative, SIBC, etc.), spoke about the importance of supporting the private sector in Proparco's mandate.
Djibril Doumbia went back over the different support programs offered to Ivorian SMEs according to their size, maturity and development project.
"What determines whether we will support a company or not is the level of expertise of the entrepreneur. If when we look at the business plan and analyze the company, we see that there are problems with personnel or logistics, it's not a big deal. On the other hand, we need to feel that the project owner has mastered his or her sector of activity to the maximum."
Djibril Doumbia, Principal, Comoé Capital
Two entrepreneurs, supported by I&P, Sara Adico and Moulaye Tabouré, shared their daily life and their main challenges. Sara Adico met with Comoé Capital in 2019. After going back over her journey and her difficulties in obtaining bank loans, this entrepreneur explained how she gradually formalized her business.
"Au départ, je n'étais pas du tout familière avec les due-diligences, mais elles m'ont permis de confirmer le potentiel de mon projet et même plus, de l'adapter et de voir plus loin : c'est cet accompagnement préfinancement qui m'a permis d'ouvrir une seconde école dans la commune de Bingerville, à 20km d'Abidjan."
Sara Adico, fondatrice, La Cocinnelle
Moulaye Tabouré, CEO of Afrikrea, is not at his first fundraising.

"Afrikrea, renamed Anka, had already raised funds before I&P. We had started our project from Europe but investors were afraid to invest in an African market, which they knew little about. They did not want to invest alone.

However, the particularity of I&P is precisely to be an investor with a great expertise in Africa. Our e-commerce platform covers 54 African countries and we heard a lot about and met members of the I&P team in these different African countries. They trusted us and we trusted them as well."
Moulaye Tabouré, CEO et co-fondateur, Anka


Read the press release