Teranga Capital makes its first investment to accelerate the development of OuiCarry
Submitted by

Admin

on Thu, 05/04/2017 - 14:49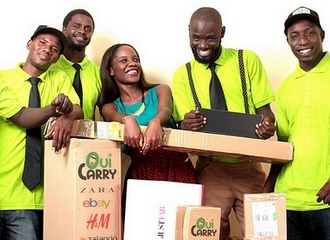 English
Teranga Capital, an impact fund dedicated to finance and support Senegalese small and medium businesses, sponsored by I&P, has realized its first investment and welcomes OuiCarry in its portfolio.
► More information on the launch of Teranga Capital
OuiCarry is a young Senegalese business providing delivery services and allowing its customers (individuals and businesses) based in Senegal to buy products from international commercial websites.
The clients can choose from any commercial website, which gives them access to very wide range of products. For those without credit card, OuiCarry can buy the product online on behalf on the client.
Compared to other alternatives, OuiCarry brings high-quality services at moderate cost and within a relatively short period of time (less than 10 days for an expedition coming from Europe for example)
OuiCarry was co-founded by three entrepreneurs: Olabissi Adjovi, Youssou Ndiaye and Pape Oumar Yam, who managed to adequately position their business on the market and make it grow on their own funds. OuiCarry currently counts several thousand customers and has made good progress over the last few years.
The company was rewarded in 2016 by the Orange FAB prize and has also been the finalist of the "Great Entrepreneur Competition" held by the British Council.
The investment of Teranga Capital will accelerate this growth trajectory by providing the company with financial, human and technical resources to strengthen its foundations and seize new opportunities.
Through this partnership, Teranga Capital will also support the founders of OuiCarry on strategic issues and on ways to improve the organization of the company.
Olivier Furdelle, CEO of Teranga Capital, explains: ''We are very happy this first investment. We believe that the sector of e-commerce is only starting in Senegal. The promoters have demonstrated a great ability in finding a relevant positioning in the market, while some market players have faced more challenges to validate their model. It's a great example that could inspire other entrepreneurs in Senegal, and demonstrate that they can find strategic partners to develop their projects".
Ouicarry - Youssou Ndiaye | Great Entrepreneur Finaliste
I&P sponsored Teranga as part of its strategy for the project I&P Development 2 (IPDEV2), consisting in sponsoring a network of 10 African impact funds over the next decade. As a strategic partner of this new fund, I&P has actively contributed to its launching (support in fundraising, finding local partners…) and shares with the team of Teranga its experience and good practices developed since 2002.
More information
→ Read the interview of OuiCarry's promoters