Aïcha Savadogo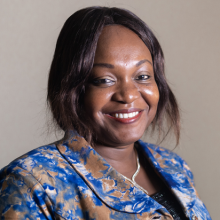 Aïcha Savadogo works as investment manager at Sinergi Burkina, an impact fund based in Ouagadougou and dedicated to Burkinabe start-ups and small businesses.
Prior to joining the team, she worked as financial analyst at the SOFIGIB, a Burkinabe guarantee fund. She has a Master in financial engineering from ENSA Agadir-Maroc (École Nationale des Sciences Appliquées) and a diploma in financial and accounting management from ENCG Settat Maroc (École Nationale de Commerce et de Gestion)
About Sinergi Burkina

Sinergi Burkina is the first investment company dedicated to small and medium-sized enterprises in Burkina Faso. Managed by Job Zongo, it was created in 2014 on the initiative of Investisseurs & Partenaires and Burkinabe entrepreneurs determined to encourage entrepreneurship in the country.
Sinergi Burkina is the second African fund sponsored by Investisseurs & Partenaires as part of its program I&P Development 2. The network currently includes impact funds specialized in SME-financing in Niger (Sinergi Niger), in Senegal (Teranga Capital), in Madagascar (Miarakap) and Côte d'Ivoire (Comoé Capital).