Abdoulaye Lo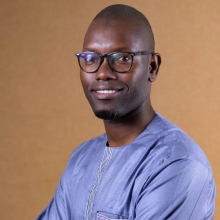 Abdoulaye LO is in charge of monitoring and evaluation at Teranga Capital. Abdoulaye has more than 7 years of experience in data collection, processing, analysis and reporting.
He has held the position of Monitoring and Evaluation Manager in various development projects for local/national and international organizations.
He is a graduate of Cheikh Anta Diop University in Dakar and holds several certifications in the field of M&E. His main motivation is to positively impact the community.
About Teranga Capital

Teranga Capital is the first impact investment fund dedicated to financing and supporting Senegalese SMEs and start-ups.
Led by Olivier Furdelle, Teranga Capital is the third African fund sponsored by Investisseurs & Partenaires as part of the program I&P Development 2. The network currently includes a fund in Niger (Sinergi Niger), Burkina Faso (Sinergi Burkina), Côte d'Ivoire (Comoé Capital) and Madagascar (Miarakap).