Aboubacar Sanou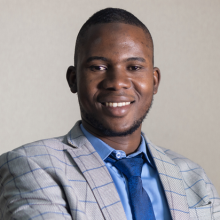 Aboubacar works as Seed Project Officer for the program I&P Acceleration in Sahel.
A great fan of investment capital, Aboubacar has always wanted to make a career in private equity. His ambition was realized in 2019 when he joined I&P as a junior investment officer (internship), before being retained by SINERGI as an Analyst. Today, he is a Seed Project Manager and is in charge of boosting SMEs supported by I&P Acceleration program in Sahel, financed by the European Union's Emergency Trust Fund for Africa. Aboubacar holds a Master's degree from the Ecole Nationale de Commerce et de Gestion de Tanger (ENCGT) in Morocco.
About Sinergi Burkina

Sinergi Burkina is the first investment company dedicated to Small and Medium Enterprises in Burkina Faso. Headed by Job Zongo, it was created in 2014 at the initiative of Investors & Partners and burkinabe entrepreneurs determined to encourage entrepreneurship in the country.
Sinergi Burkina finances SMEs for amounts ranging from FCFA 20 million to FCFA 200 million, by taking minority stakes in the capital and offering shareholder loans. It accompanies SMEs throughout their growth in its areas of expertise: governance and strategy, financial and accounting management, organisation, technical support, etc.
Sinergi Burkina is the second African fund sponsored by Investisseurs & Partenaires as part of the I&P Développement 2 program. The fund network currently includes a fund in Niger (Sinergi Niger), Senegal (Teranga Capital), Madagascar (Mirakap) and Côte d'Ivoire (Comoé Capital).