Djibril Doumbia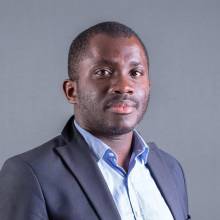 Djbril joined the team in 2020 as Principal and then as Manager Director at Comoé Capital, in Côte d'Ivoire.
Djibril holds an MSc in Management from EMLYON and a degree in agricultural engineering with a major in agro-economics. He has more than 8 years of investment experience as a private equity analyst. He has also been manager of a mutual fund (OPCVM). He co-founded several companies including FX LABS, a technology laboratory dedicated to the creation and support of SMEs.

ABOUT COMOE CAPITAL

Comoé Capital is the first impact fund dedicated to the financing and support of Ivoirian SMEs and start-ups.
Managed by Issa Sidibé, Comoé Capital is the fifth African fund sponsored by Investisseurs & Partenaires as part of its fund I&P Development 2. The network currently includes impact funds specialized in SME-financing in Niger (Sinergi Niger), Burkina Faso (Sinergi Burkina), in Senegal (Teranga Capital) and Madagascar (Miarakap). Comoé Capital website →