Germaine Nagalo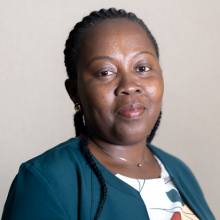 Germaine joined Sinergi Burkina in September 2014. She is Sinergi Burkina's Administrative and Financial Manager.
She previously worked in a Non-Governmental Organization called OCADES Caritas Burkina as Accounting Secretary. In particular, she was responsible for the financial and accounting management of several projects and programs.
Germaine holds a DUT in Finance Accounting, a Bachelor's degree in accounting and financial techniques, a Master's degree in accounting and financial technical science and a Master's degree in finance, accounting and audit.

The African proverb that inspires her
"When a tree falls, we hear it; when the forest grows, not a sound"
About Sinergi Burkina

Sinergi Burkina is the first investment company dedicated to small and medium-sized enterprises in Burkina Faso. Managed by Job Zongo, it was created in 2014 on the initiative of Investisseurs & Partenaires and Burkinabe entrepreneurs determined to encourage entrepreneurship in the country.
Sinergi Burkina is the second African fund sponsored by Investisseurs & Partenaires as part of its program I&P Development 2. The network currently includes impact funds specialized in SME-financing in Niger (Sinergi Niger), in Senegal (Teranga Capital), in Madagascar (Miarakap) and Côte d'Ivoire (Comoé Capital).