Gloria Ouédraogo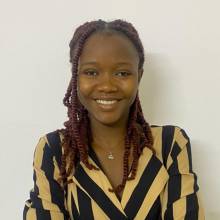 Gloria Ouédraogo is a Financial Assistant at Sinergi Burkina.
Before joining Sinergi Burkina in May 2022, she worked at Bakou Logistics as an assistant to the CFO and as a treasury officer. Before Bakou Logistics, Gloria made a six-month internship at Sinergi Burkina as a financial analyst in 2019.
She holds a Master's degree in Accounting Control Audit from the University Institute of Thomas Sankara University.