Job Zongo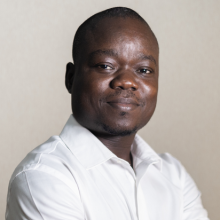 Job Zongo joined the team in 2019 as Managing Director of Sinergi Burkina, an impact fund sponsored by IPDEV 2 and dedicated to financing and supporting small businesses with high potential in Burkina Faso.
Job worked for 12 years for ACFIME, a Decentralized Financial System as Internal Audit Manager, Branch Manager and Operations Director.
He has created a consulting firm in finance and management specialized in supporting start-ups, SMEs and business incubators. He has been a consultant in finance and entrepreneurship in local and sub-regional programs and has taught finance in several business schools in Burkina Faso.
He holds an Msc in Finance from EMLYON Business School and a Master's degree in Economics and Management from the University of Ouagadougou and trained in inclusive finance in Turin (Italy), digital finance in Nairobi (Kenya) and agricultural finance in Addis Ababa (Ethiopia).

The quote that inspires him
"Fortune favors the bold !"
About Sinergi Burkina

Sinergi Burkina is the first investment company dedicated to small and medium-sized enterprises in Burkina Faso. Managed by Job Zongo, it was created in 2014 on the initiative of Investisseurs & Partenaires and Burkinabe entrepreneurs determined to encourage entrepreneurship in the country.
Sinergi Burkina is the second African fund sponsored by Investisseurs & Partenaires as part of its program I&P Development 2. The network currently includes impact funds specialized in SME-financing in Niger (Sinergi Niger), in Senegal (Teranga Capital), in Madagascar (Miarakap) and Côte d'Ivoire (Comoé Capital).