Manuela BOMA-ATTA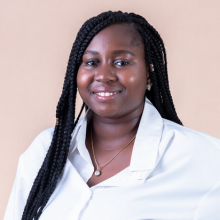 Manuela Boma-Atta joined I&P in April 2021 as I&P Education and Employment Safeguarding Officer. Prior to joining I&P, she worked in international education organizations, including Unesco's International Institute for Educational Planning and PASEC in the Francophonie. She has collaborated with various education stakeholders with a focus on gender, inclusion and quality of education in Sub-Saharan Africa. She holds a master's degree in international public management from Sciences Po Paris.
About I&P Education to Employment program
I&P Education and Employment is a blended funding program that aims to improve access to relevant, quality education and to strengthen the match between training and employer needs. The program will finance and support private educational institutions or companies in the educational ecosystem producing education-related goods, services and technologies. Learn more about the program.