Mireille Rakotosoa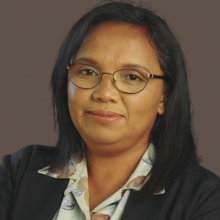 Based in Antananarivo - Madagascar, Mireille Rakotosoa joined I&P in March 2020 and is the Administrative and Financial Controller of IPED.
Mireille holds a Master's degree in management with a major in accounting and finance and has several years of experience in the field of administration and finance.
Before joining I&P, she was the administrative and financial manager at Transparency International Initiative Madagascar for 5 years.