Olivier Lafourcade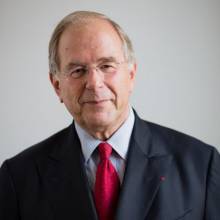 Olivier Lafourcade is a member of the board of directors and investment committee of IPDEV since 2004. In June 2012 he becomes chairman of this Board.
Olivier Lafourcarde spent most of his career at the World Bank, which he joined in 1973, accumulating considerable operational experience in many countries, in particular in Africa, Asia and Latin America. His latest position at the World Bank was as Director for Mexico, Colombia and Venezuela, with residence in Mexico City from 1996 to 2002. Previously, he was appointed Director in several countries in West and Central Africa.
For the last 10 years, Olivier Lafourcade has been an international consultant in the field of economic development collaborating with many public and private institutions, NGO's and universities interested in international development.
Olivier Lafourcade is a graduate of the Ecole Nationale Supérieure Agronomique of Rennes (France), and he holds an MSc and a PhD degree in Agricultural Economics from the University of Maryland (USA). In addition he is a graduate of the Stanford Executive Program (1997).