Raphaël Dumont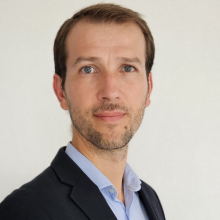 Raphaël joined I&P investement team in April 2016. Based in Douala (Cameroon) between 2016 in 2019, he first followed I&P's portfolio companies based in Central Africa as Investment Manager for the funds IPAE 1 and IPAE 2.
He joins the IPDEV 2 team at the end of 2019, as Investment Manager and then Investment Director, in charge of supporting the fund Comoé Capital and the launch of new impact funds in Cameroon, DRC and Tunisia.
Since 2023, he is focusing on I&P's acceleration activity, and is in charge of supervising the programs "I&P Acceleration Technology", "I&P Digital Energy", and "I&P Acceleration in the Sahel", as well as the development of new acceleration programs.
Before joining I&P, Raphaël worked as a financial analyst at AM Capital, a merger-acquisition firm specialized in the Middle Eastern and African region (2015-2016) and at Gibraltar Advisory, a consulting firm dedicated to African SMEs (2013-2015). He did a 6-month internship at I&P as a junior Investment Officer in 2012.
Raphaël holds a Master in Finance and Strategy from Sciences Po Paris.
Raphael is fond of bicycle touring.