Sanou Diouf Kane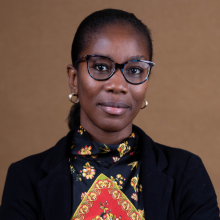 Sanou Diouf Kane joined Teranga Capital in November 2020 as Financial, Accounting and Administrative Officer.
She has over ten years of experience in accounting and financial management. She previously held the position of Accounting Manager in a FONSIS subsidiary, Polimed.
Sanou holds a Master's degree in Economics and Management "Computerized Management Option" from the UGB Saint-Louis/Senegal, and a Diploma of Higher Studies in Accounting and Financial Management (DESCOGEF) currently being validated at CESAG Business School/Senegal.
About Teranga Capital

Teranga Capital is the first impact investment fund dedicated to financing and supporting Senegalese SMEs and start-ups.
Led by Olivier Furdelle, Teranga Capital is the third African fund sponsored by Investisseurs & Partenaires as part of the program I&P Development 2. The network currently includes a fund in Niger (Sinergi Niger), Burkina Faso (Sinergi Burkina), Côte d'Ivoire (Comoé Capital) and Madagascar (Miarakap).
Access Teranga Capital's website →