Vivian Tchatchueng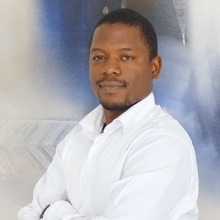 Based in Douala, Vivian is in charge of the IPAE 1 and IPAE 2 portfolios in Cameroon and Central Africa.
Prior to joining I&P, Vivian worked for Injaro Investments Limited, where he was an Operations & ESG Analyst. Before that, he worked as a Consulting Engineer for Lundin Foundation and Engineers Without Borders, where he was involved in several SMEs in Mali, Burkina Faso and Ghana in the implementation of maintenance and production management systems, as well as the optimization of the internal organization of these companies.
Vivian holds a Diploma in Industrial and Productive Maintenance Engineering from the National School of Agro-Industrial Sciences (ENSAI) of Cameroon. He obtained a Certificate in Business Management from Wharton School, as well as a Master Of Business Administration (MBA) from the business school Pigier Cameroon.

The proverb that inspires him
« You don't have to be Great to start but you have to start to be Great! ». Zig Ziglar