IMPACT FUNDS
I&P manages four impact funds fully dedicated to African SMEs, mainly differentiated by the company size they target. Our funds have progressively extended I&P's scope of intervention, and propose an investment continuum between €30,000 and €3 million.
I&P Developpement 1 (IPDEV1)
Fund Size: €11 million
Starting date: 2002
Stage: fully invested
Investments: 33 (including 25 exits)
Investment range: between €50,000 and €650,000 in equity or quasi-equity
I&P Développement 1 targets small and fast growing African enterprises (including start-ups), with high social and/or environmental impact. Launched in 2002 by Patrice Hoppenot, IPDEV 1 is an impact first fund with a unique track record on exits in the African SME industry, and strong socio-economic impact.
IPDEV 1 was a pilot phase, critical to establish Investisseurs & Partenaires' model and demonstrate its investment thesis, based on the existence of talented entrepreneurs looking for financial and strategic support to launch and scale up their businesses in Africa.
IPDEV1 is now in the process of divesting its portfolio and has achieved 25 exits since 2012.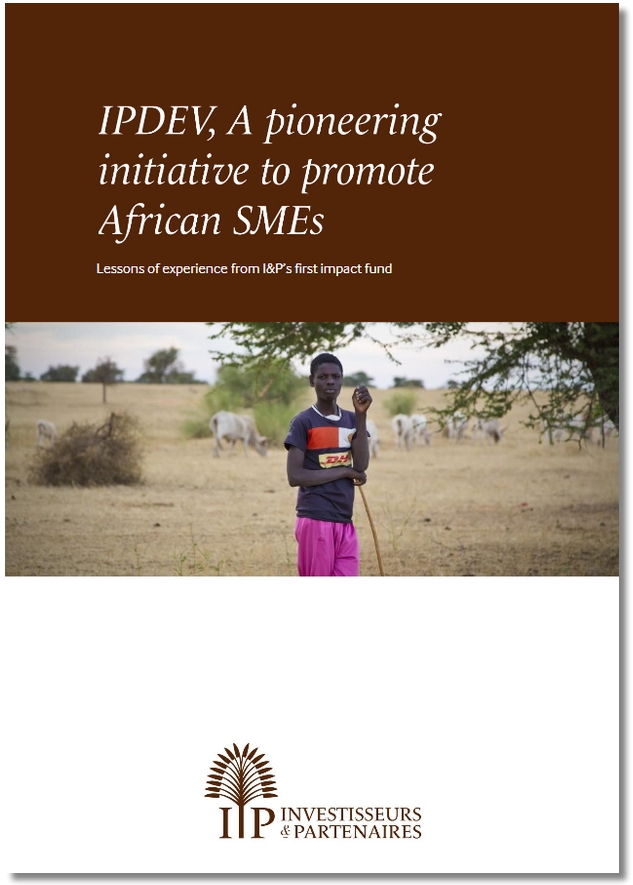 15 years after its creation, Investisseurs & Partenaires publishes a short document reflecting on the successes, drawbacks and key lessons learned from its first impact fund: Investisseur & Partenaire pour le Développement (IPDEV).
In the first part, we present the history of IPDEV, from its pioneering debut to the diversification of the investment vehicles required to encompass the growing range of its operations.
In the second part, we draw 15 key lessons from of our 15 years of investment experience following 3 aspects: the enterprise and its management, the investor strategy and the investor's operations.
► The board is chaired by Olivier Lafourcade since June 2012.
Olivier Lafourcade is a member of the board of directors and investment committee of IPDEV since 2004. In June 2012 he becomes chairman of this board. Olivier Lafourcarde spent most of his career at the World Bank, which he joined in 1973, accumulating considerable operational experience in many countries, in particular in Africa, Asia and Latin America. His latest position at the World Bank was as Director for Mexico, Colombia and Venezuela, with residence in Mexico City from 1996 to 2002. Previously, he was appointed Director in several countries in West and Central Africa. For the last 10 years, Olivier Lafourcade has been an international consultant in the field of economic development collaborating with many public and private institutions, NGO's and universities interested in international development. Olivier Lafourcade, is a graduate of the Ecole Nationale Supérieure Agronomique of Rennes (France), and he holds an MSc and a PhD degree in Agricultural Economics from the University of Maryland (USA). In addition he is a graduate of the Stanford Executive Program (1997).
► The advisory board meets twice a year to discuss the companies exiting the portfolio. It is composed of several investors.
► Risk and governance committee
Olivier de Guerre, CEO of Phitrust
Amadou Raimi, former Global Vice-President of Deloitte
Olivier Lafourcade
I&P Développement 2 (IPDEV2), sponsor of African impact funds

Drawing lessons of its experience since its creation in 2002, I&P conceived IPDEV 2 as an incubator and sponsor of African impact funds. These funds will be able to efficiently and sustainably support start-ups and very small enterprises.
IPDEV 2 aims to incubate 10 impact funds in 10 African countries in 10 years, in order to support 550 early-stage entrepreneurs and contribute to create 15 000 jobs.
As of today 5 funds are already operational:
I&P Afrique Entrepreneurs 1 (IPAE 1)

Fund Size: €54 million
Launch date: 2012
Status: fully invested
Portfolio: 29 investees
Exits: 2 full exits + 7 partial or on-process exits
Investment range: between €300,000 and €1,5million
10 years after IPDEV 1, I&P launched the fund I&P Afrique Entrepreneurs 1 to address the financing needs of slightly larger SMEs, comprised between €300,000 and €1,5 million.
IPAE 1 counts 29 companies in its portfolio, as a minority stakeholder.
The fund is characterized by a significant diversity in terms of geographical location and sector. Companies of the portfolio are located in 11 countries of Sub-Saharan Africa and the Indian Ocean and operate in various sectors (microfinance, construction, transport, health…)
IPAE is governed by 3 bodies
1. The board of directors: Chaired by Jean-Michel Severino, the board is composed of Ms Annie Ferton, M. Mamadou Lamine Loum, M. Abdoulaye Bio Tchané, M. Olivier Lafourcade, M. Roshan Nathoo and M. Philippe Ledesma.
2. The investment committee of the management company, I&P Gestion. Every month the following professionals from the private equity and the development sectors meet to discuss on ongoing projects and investment decisions.
Olivier Lafourcade, Consultant, former director at the World Bank
Luc Rigouzzo, CEO of Améthis Finance, former CEO of Proparco
Jean-Michel Severino, CEO of I&P and former CEO of AFD (2001-2010)
François Wohrer, CEO of Compagnie Financière Degroof and former Senior Investment Officer at IFC
Hervé Schricke, President "Club Afrique", AFIC
Ann Katrin Dolium, Expert on ESG and CSR issues
A member of the I&P team
3. The advisory board Composed of representative of key investors of the fund, it meets at least twice a year to give another perspective on potential conflicts of interest and on the funds activities.
I&P Afrique Entrepreneurs 2 (IPAE 2)

Launch date: 2017
Status: Investment phase
Portfolio: 4 investees
Investment range: between €300,000 and €3million
As the successor fund of I&P Afrique Entrepreneurs, IPAE 2 will continue and deepen the impact mission of Investisseurs & Partenaires and promote the emergence of a new generation of responsible African entrepreneurs.
With a target size of €80 million, IPAE 2 will invest in equity and quasi-equity as a minority shareholder in 30 to 40 startups and businesses located in Sub-Saharan Africa and the Indian Ocean, and thus contribute to building a sustainable and productive private sector. IPAE 2 also aims to create an investment hub in East Africa, by opening a new office in Nairobi.
IPAE 2 will be a generalist fund that targets a large range of sectors that significantly contribute to the achievement of the Sustainable Development Goals (SDGs): agri-business, health, construction industry, renewable energy, microfinance, industry, B2B products and services, etc.
Investment committee
The Investment Committe will be regularly consulted for its opinion on every investment or divestment proposal related to I&P Afrique Entrepreneurs II.
It is composed of:
Olivier LAFOURCADE, Chairman of IPDEV Board
Luc RIGOUZZO, Executive President of Amethys Finance
Hervé SCHRICKE, President Club Afrique, AFIC
François WOHRER, CEO of Degroof Petercam France
Carole RAMELLA, Managing Director of GFA Consulting LTD
Cheick SANANKOUA, Managing Director of HC Capital Properties

Extra-Financial Committee
An extra-financial committe is composed of independent members and is regularly consulted. Its role includes the review of the extra-financial policy and its specifi goals, and of the annual ESG and impact assessment.
It is composed of:
Swaady MARTIN, Founder and Chairman of Ysawara
Michel JACQUIER
Mariam DJIBO, Principal of Adenia
Pascale DATTIN, ESG Consultant
Farid BADDACH, Executive Director of BSR

Senior Advisors
I&P team can count on the support of high-level advisors with extensive experience in: macroeconomic issues, geopolitics and African politicas, financial and legal structuring, information systems, project management, branding, microfinance, bank relations...
English