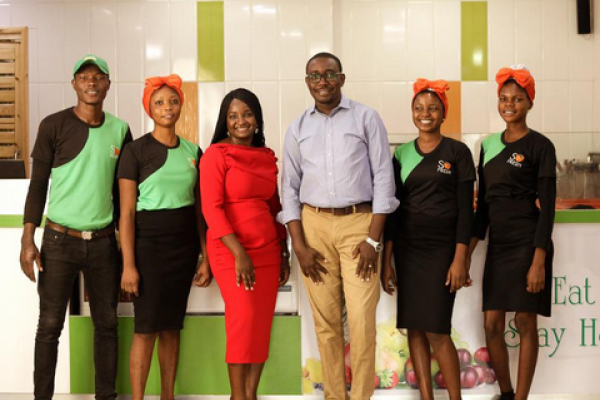 Sector of activity
:
Agro-food
Status
:
Investissement en capital
Entrepreneur
:
Olagoke Balogun, Abimbola Balogun
A propos
:
So Fresh is Nigeria's pioneer and market leader in the healthy food Quick Service Restaurant space (serving notably salads, juices, smoothies, sandwiches, parfaits, etc.).
The company was founded in 2010, initially selling whole fruits and vegetables, and later evolved in 2013 with the introduction of healthy meals.
Today, So Fresh operates 15 outlets in Nigeria (Lagos and Abuja), and also offers delivery services to selected communities, through its website and social media channels.
The entrepreneurs
So Fresh was co-founded by Olagoke Balogun ("Goke") and Abimbola Balogun.
Olagoke Balogun is the CEO of So Fresh. He has accumulated a wealth of experience spanning some 20 years across several industries and functions including food & beverage, oil & gas, marketing, sales, production and operations. He is also a graduate of the Stanford SEED program.
Abimbola Balogun studied law and was called to the Nigerian bar in November 2006. She had a 5-year stint as a legal practitioner and now 10 years as an entrepreneur. She is a Human Resource professional, and an associate member of the Chartered Institute of Personnel Management (CIPM). She is a Goldman Sachs Scholar and has a Certificate in Entrepreneurial Management.
Partnership with I&P
The partnership between SoFresh and I&P, through its fund I&P Afrique Entrepreneurs 2, aims to:
• Support with further expansion across Nigeria
• Enhance the ESG impact profile of the business
• Strengthen senior management
• Expand product offerings by introducing prepackaged meals sold through 3rd party vendors
•Support with marketing and brand management
Expected Impacts
• Providing decent direct employment opportunities, especially for women, with each new outlet opened
• Sourcing over 90% of inputs from local suppliers
• Reinforcing the company' ESG strategy, and notably providing health insurance, transport allowance and housing allowance for all staff
• Providing Nigerians with healthy, quality and fresh meals