Acep Madagascar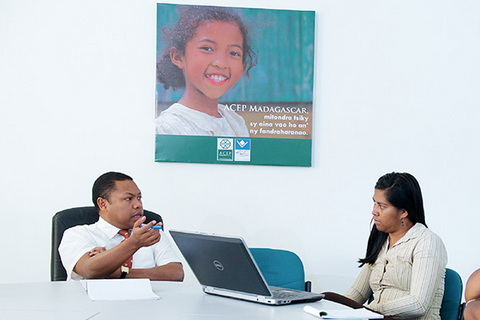 Status
:
Capital investment
Entrepreneur
:
Mboahangy Mahefa Edouard RANDRIAMIARISOA
En portefeuille depuis
2012
ACEP Madagascar is a financial institution for micro companies financing and SMEs. ACEP Madagascar was created in 2009 and positions as a major actor in microfinance industry in Madagascar. Its aim is to bring financial services (credit, saving, insurance) to populations traditionally excluded from the financial circuit because of their non-solvability.
ACEP Madagascar is one of Madagascar's oldest MFIs. Thanks to its network of 6 regional branches and 42 agencies, it makes its financial products available to a wide range of customers.
PARTNERSHIP WITH I&P
I&P is committed alongside ACEP Madagascar to:
• The standardization of management tools in the domain of computing, new technologies, and use of plastic money.
• To think about environmental responsibility and social performance.
IMPACTS
• More than 350 jobs created
• Incomes have known a growth of +24% from 2010 to 2011
• Since its creation in 2009, ACEP has allowed credits to more than 19500 urban and suburb entrepreneurs