Cameroun Breuvages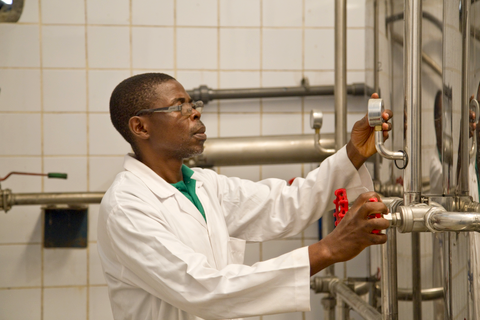 Entrepreneur
:
Roger Njitchoua
En portefeuille depuis
2004
Cameroun Breuvages packs and sells natural and flavored spring water under the brand Sawawa. Launched in 2004, Cameroun Breuvages took the local leadership upon the market face to 15 other competitors and hundreds of informal street sellers. In 2008, the company has produced more than 10 million water pouches while undergoing a significant increase of its production capacities. The brand still keeps one step ahead with its new flavored water, Pamparam, company's best-seller.
L'ENTREPRENEUR
Roger Njitchoua was a professor and researcher in hydrology at the University of Orsay (Paris XI) settled in France since 1982. In 2001, during a trip in his native country, Cameroun, he was struck by the social and health stakes raised by the access to potable water. Thanks to his experience within the hydrology field, he gets back to France convinced that something has to be done to enable the largest distribution of high-quality water. With financial support from acquaintances, and his own savings, he starts Cameroun Breuvages in 2004, a local water distribution company selling low-cost but high-quality water pouches.
PARTNERSHIP WITH I&P
I&P committed alongside with Cameroun Breuvages :
• To accompany the enterprise's debuts with a complete mentoring in strategic, financial and commercial management
• To bring the necessary financial means to sustain the growth needs
• To be part of the governance scheme through chairing at the board
• To support the launch of PamParam
Impacts
• Annual turnover growth in average since 2006: + 22%
• Distribution of high-quality water to the largest part of the population, including the lowest classes
• Use of recyclable sachets.