Chicky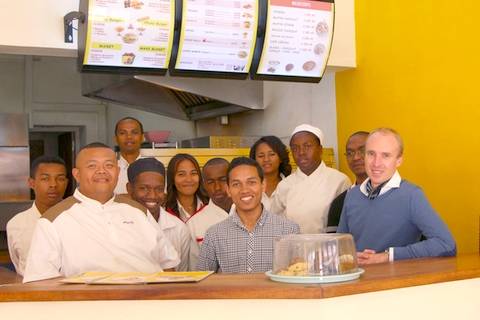 Status
:
Capital investment
Entrepreneur
:
Yohann CATTIAU
Chicky is a fast food company specializing in chicken. It aims to become a major player in the sector in Madagascar. Chicky was launched in 2017 by Yohann Cattiau, a French entrepreneur based in Madagascar, who is now in charge of its management. The company now has 3 restaurants: the first restaurant opened in June 2017 in the busy Behoririka district, the second in January 2018 in the heart of the city in Analakely, and the third in October 2018 in the Urbania Gallery in Analakely.
With Miarakap's financing and support, Chicky aims to become a reference in the field of fast food, meeting international quality standards, while remaining accessible to the greatest number of people.
THE ENTREPRENEUR
Chicky is led by Yohann Cattiau, who graduated in 2004 from Kedge Business School. He moves to Madagascar in 2016. Yohann worked for 10 years in investment fund management companies in Luxembourg and then held a position as a financial analyst in the Finance Department of the Axian Group in Madagascar from July 2017 to June 2018, in parallel with Chicky's management.
PARTNERSHIP WITH MIARAKAP
Miarakap's support for Chicky is materialized by:
• The financing of technical assistance missions allowing the skills development of the operational teams
• The structuring and formalization of the company: declared employees and company subject to VAT
• Assistance in setting up accounting and control procedures
MAIN IMPACTS
• Complete formalization of the company and all jobs
• Support for the formalization of small chicken suppliers