Clinique dentaire le Cap Vert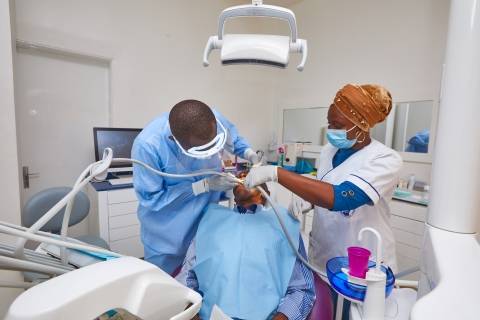 Status
:
Capital investment
Associed fund
:
Teranga Capital
Entrepreneur
:
Dr Issakha MBAYE
The Dental Clinic Le Cap Vert is a Senegalese health structure created in 2006 and specialized in oral care.
With proven expertise, the clinic offers its patients high quality oral care services, performed using processes and equipment that meet the highest standards in the dental field. It includes several specialty areas: basic dental care, orthodontics, prostheses and dental imaging.
After twelve years of activity, the Dental Clinic Le Cap Vert has several thousand patients treated, enjoys a very good reputation for the quality of its services, and has made significant progress in its operational and financial performance.
The Entrepreneur
Dr Issakha Mbaye is a dentist. He graduated in 2003 in dentistry from Cheikh Anta Diop University in Dakar, and also holds a diploma in public health.
Partnership with Teranga Capital
Teranga committed alongside with the company to:
• Support the company in its growth phase by providing it with financial, technical and human resources to strengthen its base, expand its offers and seize development opportunities.
• Provide local support ranging from strategy to improving the effectiveness of the management of the organization.
Expected Impacts
• Provide quality care to a greater number of patients.