Faso Elevage Bio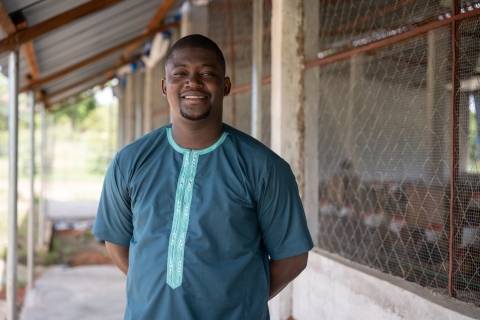 Associed fund
:
I&P Accélération, I&P Accélération au Sahel, I&P Développement, Sinergi Burkina
Entrepreneur
:
Aboul-Wakil Faïçal PALENFO
Faso Elevage Bio is a Burkinabe company specialized in the production of breeding materials. This young company has progressively developed five activities aimed at poultry farmers: production and commercialization of chicks and breeding equipment (incubators, cages, brooders, etc.), implementation of a farm monitoring system, rent of livestock buildings and training of poultry farmers on good breeding practices.
THE ENTREPRENEUR
Faso Elevage Bio was created by Abdoul-Wakil Faïçal PALENFO when he was a young student entrepreneur. Before starting his own business, Mr. PALENFO was a livestock consultant for NGOs and companies like Ferm'Afrik. He holds a professional master's degree in animal production from the University of Saint Thomas Aquinas (USTA) in Ouagadougou.
PARTNERSHIP WITH I&P AND SINERGI BURKINA
Faso Elevage Bio is supported by I&P and Sinergi Burkina through I&P Acceleration in Sahel. The support will allow the company to :
Strengthen the chick production capacity
Improve the quality of the egg brooding machines
Strengthen the company's market presence
Strengthen the structuring and the management system (SIG)
EXPECTED IMPACTS
Creation and consolidation of jobs
Increase the local supply of chicks
Valuation of local products
Establishment of good governance
About Sinergi Burkina
Created in 2014, Sinergi Burkina is the first impact investment fund dedicated to financing and supporting SMEs and start-ups in Burkina Faso. Headed by Job Zongo, Sinergi Burkina is the second investment fund sponsored by Investisseurs & Partenaires as part of the I&P Développement 2 fund. The fund network currently includes a fund in Niger (Sinergi Niger), Côte d'Ivoire (Comoé Capital), Senegal (Teranga Capital) and Madagascar (Miarakap). → To learn more about Sinergi Burkina​