FASOPRO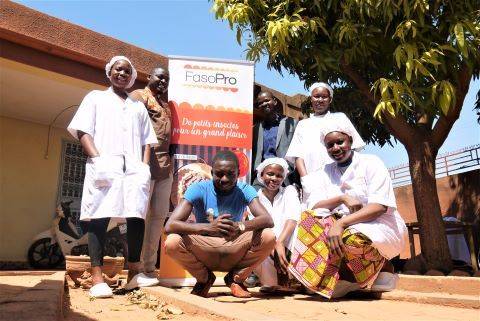 Associed fund
:
I&P Accélération, USAID PACE, Sinergi Burkina
Entrepreneur
:
Kahitouo HIEN
FasoPro is a company that transforms food products based on edible insects. Since 2014 FasoPro offers a range of products based on shea and locust caterpillars. FasoPro is now one of the most successful and award-winning start-ups in the country, having won the special award for the best social impact in 2018.
THE ENTREPRENEUR
FasoPro is an initiative of Kahitouo HIEN. Holder of a Master's degree in Biochemistry-Microbiology obtained in 2009 at the University of Ouagadougou, and a Master's degree in Water and Environmental Engineering, Environment option from the International Institute of Water and Environmental Engineering (2iE) obtained in 2012, his innovative vision for the company has earned him multiple national and international awards.
CONTRIBUTIONS BY SINERGI BURKINA
Fasopro has been supported by Sinergi Burkina since 2019 as part of the Partnering to Accelerate Entrepreneurship (PACE) program in partnership with the United States Agency for International Development (USAID).
The objectives are as follows:
Financing of mass communication (production of advertising spots and their broadcast on television).
Reinforcement of FasoPro's production capacity through the purchase of production equipment (oven, fryer, semi-automatic welding machine, etc.) and the purchase of raw material (shea butter caterpillars)
---
ABOUT SINERGI BURKINA

Created in 2014, Sinergi Burkina is the first impact investment fund dedicated to financing and supporting SMEs and start-ups in Burkina Faso. Headed by Job Zongo, Sinergi Burkina is the second investment fund sponsored by Investisseurs & Partenaires as part of the I&P Développement 2 fund. The fund network currently includes a fund in Niger (Sinergi Niger), Côte d'Ivoire (Comoé Capital), Senegal (Teranga Capital) and Madagascar (Miarakap). → To learn more about Sinergi Burkina
ABOUT USAID PROGRAM
Investisseurs & Partenaires and the United States Agency for International Development (USAID) launched in 2016 an innovative acceleration program for young companies located in Niger, Burkina Faso and Senegal. The partnership will support high-potential start-ups and small and medium-sized enterprises to facilitate their access to financing in a region where the ecosystem supporting entrepreneurship is still underdeveloped. → Click here to find out more