Fenel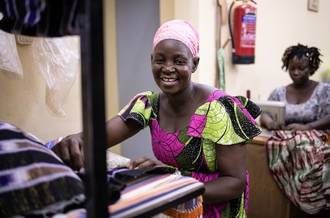 Associed fund
:
I&P Accélération, I&P Accélération au Sahel, I&P Développement, Sinergi Burkina
Entrepreneur
:
Angéline TRAORE YOUGBARE
Fenel produces and markets fashion accessories (fitted accessories, ordinary sewing accessories and leather goods accessories) from local fabrics woven in Burkina Faso (Faso Danfani).
THE ENTREPRENEUR
Fenel was founded in 2019 by Angéline TRAORE YOUGBARE, who before creating the company, worked for 10 years as manager and main designer at Nagteedo Création, a company specialized in fashion and pearl jewelry. Passionate about fashion since 2007, it is in 2019 that she started to develop local woven loincloths such as the Faso Dan fani.
CONTRIBUTION OF SINERGI BURKINA
Fenel is supported by SINERGI BURKINA as part of the I&P Acceleration program in Sahel. The main objective of this partnership is to :
Increase production capacity and product quality
Diversify the company's products by launching a range of ready-to-wear products made from Faso Danfani
Set up an internal accounting system kept by a professional
Strengthen the sales force and the visibility of the company
Restructuring the company and strengthening its management system
EXPECTED IMPACTS
Consolidation of 7 existing full-time jobs and creation of 6 new formal jobs for young people and full-time women
Contribution to the national economy through the payment of taxes to the tax authorities
Increased revenues for Faso Danfani loincloth weavers
Creation of a strong added value through the valorization of local products
Reducing imports of fashion accessories and strengthening exports
About Sinergi Burkina

Created in 2014, Sinergi Burkina is the first impact investment fund dedicated to financing and supporting SMEs and start-ups in Burkina Faso. Headed by Job Zongo, Sinergi Burkina is the second investment fund sponsored by Investisseurs & Partenaires as part of the I&P Développement 2 fund. The fund network currently includes a fund in Niger (Sinergi Niger), Côte d'Ivoire (Comoé Capital), Senegal (Teranga Capital) and Madagascar (Miarakap). → To learn more about Sinergi Burkina​