Gain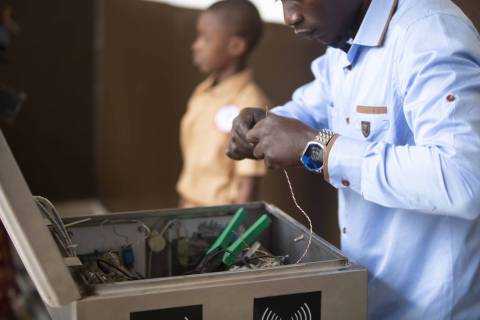 Associed fund
:
I&P Accélération au Sahel, Comoé Capital
Entrepreneur
:
Guy Kouakou Attaboth Etchielou
Gain is a company in Côte d'Ivoire specialized in the development of administrative management software, the sale of access control systems in schools, and the automated control of staff presence and movements on site for companies.
The entrepreneur
The company was founded in 2020 by Guy Kouakou Attaboth Etchielou.
Holding a BTS in communication, he has worked as a freelance salesman in a company marketing poultry products and commercial ADELCI-Daloa. In 2006, he was charge of communication at Ivoire Finance microfinance. Then he ended up becoming head of agency within this structure from 2007 to 2008. He decided to set up his own business. With the help of one of his acquaintances, he developed an SMS messaging service between schools and parents, and later an administrative management and access control software for schools.
Partnership with I&P andComoé Capital
Gain is supported by I&P Acceleration in Sahel program, which is implemented in Côte d'Ivoire by Comoé Capital sponsored by I&P. The support will essentially enable the company to increase its production capacity and develop its brand. Gain will also benefit from the support of several consultants who will strengthen the technical capacities (software), boost the growth of the activity and revitalize the accounting and finance functions of the company.