Garden City University College (GCUC)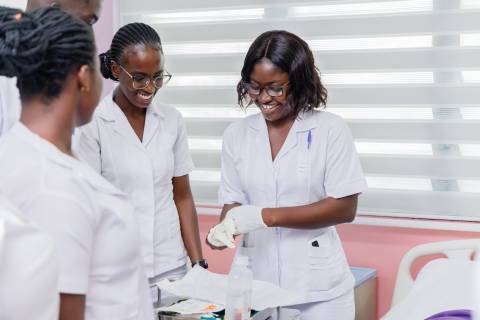 Associed fund
:
I&P Education et emploi
GCUC is a private university founded in 2001 by Albert Acquah, a skilled entrepreneur. Based in Kumasi, the university is made up of a Faculty of Applied Sciences, a Faculty of Health Sciences, and a Business School.
Through an innovative digitization strategy combined with high-quality teaching, GCUC has grown to be one of the leading universities in Ghana. With over 4,000 alumni, GCUC plays a key role in addressing the shortage of health workers in the country.
The entrepreneur
Albert Acquah holds degrees in social sciences (Kwame Nkrumah University of Science and Technology), economics and international administration (Ohio University).
He worked for several years in investment consulting.
Albert Acquah began his entrepreneurial adventure in 2001 when he founded the College of Information Technology and Management Systems, which later became Garden City University College.
Partnership with I&P
Through its I&P Education to Employment program, I&P has committed to GCUC to:
Develop a digitalization plan (e-learning platform, online courses, construction of a recording and production studio)
Support its decentralisation strategy, notably through the implementation of campuses in remote areas of the country and the supply computer equipment
Strengthen the employability rate of students and graduates through the jobs and internships center, coupled with the appropriate support
Implementing policies and practices to protect learners on campus
Expected impacts
Increasing the number of beneficiaries: GCUC's reinforced digitalisation will allow many young people to benefit from training in the healthcare field via online service.
Promoting access to higher education in remote areas of Ghana by opening two new campuses (Akim Oda and Berekum).
Increasing the employment prospects of young graduates.
---
A company supported by the partneship between I&P and Mastercard Foundation
Since February 2021, I&P has partnered with Mastercard Foundation through its I&P Education to Employment initiative, a finance program aimed at improving access to relevant and quality education on the African continent.
The partnership between I&P Education to Employment and Mastercard Foundation specifically aims to support 30 education entrepreneurs in 3 target countries (Ivory Coast, Ghana, Senegal) over 3 years. The partner companies receive funding and technical assistance to support them in their digital transformation, resilience, and growth strategy as well as in the implementation of social inclusion and employability measurement mechanisms.
---
Read more about the I&P Education to Employment program