HERi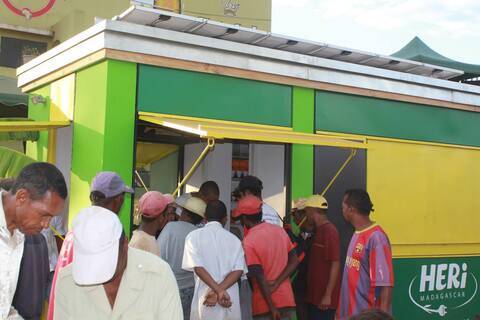 Status
:
Capital investment
Entrepreneur
:
Samy CHALIER & Ando RANDRIAMALALAHARISON
Created in 2012, HERi Madagascar is a company that specializes in the distribution and financing of solar energy solutions in rural areas of Madagascar.
HERi is a socially committed company that acts on the sustainable economic and social development of rural populations in Madagascar by distributing innovative products and services through a network of energy kiosks managed by women entrepreneurs.
HERi's activity consist of:
A network of kiosks and distribution points managed by franchised women entrepreneurs who develop the activity of renting solar lamps to populations without electricity in rural areas;
A network of Microfinance Institutions that offer a credit purchase of HERi products to their clients;
A PAY-As-You-Go (PAYGo) financing model for people living in peri-urban and rural areas.
HERi is the exclusive representative in Madagascar of two suppliers of solar-powered lighting systems for domestic use: Fosera and d.light. The company currently owns about 100 kiosks and rents an average of 26,000 solar lamps per day.
The entrepreneurs
Samy CHALIER holds an MBA from IE Business School and has 12 years of experience in international management. He has been supervising the restructuring and growth of HERi since 2016.
Ando RANDRIAMALALAHARISON holds a master's degree in finance and is an alumnus of AFD's Lead Campus program. She was an auditor in an accounting firm for 3 years before joining HERi in 2015 where she was first an internal auditor and then Administrative and Financial Director. Since 2017, Ando has been HERi's Deputy Managing Director.
Partnership with I&P
Investisseurs & Partenaires (I&P) has committed to HERi in order to:
Develop a model for purchasing solar lighting systems on credit and at an affordable price for households through Pay-as-you-go;
Enable energy inclusion for many families through a door-to-door approach;
Fight climate change by providing clean, quality energy to the user;
Create jobs in the most remote areas of Madagascar through its network of agents and franchisees.
Expected impacts
The company's mission is to bring a better quality of life to the population of rural Madagascar by providing an affordable way to access clean energy essential to their daily activities.
HERi's expansion into the less developed island's regions will create jobs, which is a pillar of development and a source of income for households.
It will allow households to switch to quality, clean and safe energy and away from traditional light sources such as candles and oil lamps commonly used by the rural population.