Knutsford University College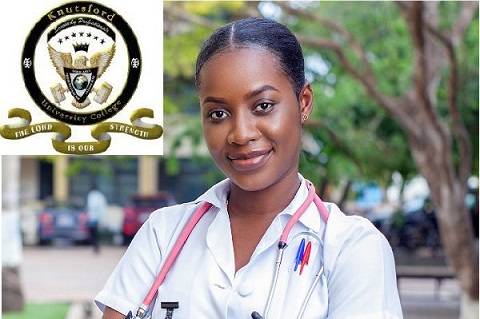 Associed fund
:
I&P Education et emploi
Entrepreneur
:
John K. Essel
Knutsford University College (Knutsford) is a private liberal arts, science and technology University College, established in September 2007. Knutsford College has two campuses, one in Accra and another one in Kumasi.
Programs offered in the Accra campus are BSc. Business Administration, BSc. Information Technology, BSc. Computer Science, BSc. Communication and Media Studies, BSc. Nursing, and BSc. Economics. The programs available in the Kumasi campus are BSc. Business Administration and BSc. Information Technology.
The founder is passionate about education and he acknowledges that there are struggles and challenges, so he offers scholarships to students to reduce this burden. In 2019, 60% of students received scholarships, in 2020 this figure increased to 65% and in 2021, 51% of students were offered scholarships. Usually, most scholarships are granted to first year students, however, in 2020, the founder decided to extend this to sophomore and junior students due to the pandemic.
Workshops are organized for students interested in entrepreneurship. Knutsford also believes in leadership and contribution to society – students create awareness on environment and sanitation issues through outreach activities. Knutsford won the Ghana Environmental and Sanitation Award, 2022 for their efforts in this regard.
THE ENTREPRENEUR
John K. Essel is an astute self-developed businessman and leader in entrepreneurship development and creativity. A graduate of the UST School of Mines, now University of Mines (UMaT), Mr. Essel diverted his attention from engineering into creation of enterprises. He has helped create and develop some SMEs in Ghana and beyond. Mr. Essel also served as the founding Deputy Registrar and Acting Registrar of one of the first private university colleges in Ghana.
THE PARTNERSHIP WITH I&P
Through its I&P Education to Employment program, I&P is committed to working with Knutsford University College to:
⇒ support the acquisition of 50 desktops thereby improving the desktop-to-student ratio by 50%.
⇒ purchase manikins that can simulate real-life health situations, speech recognition ability, and other features for the Nursing Program
⇒ support the university to establish a Career Services Department.
EXPECTED IMPACTS
⇒ Boost the employability of young people
⇒ Improve the quality of training provision through the acquisition of new equipment.