Liberty Pressing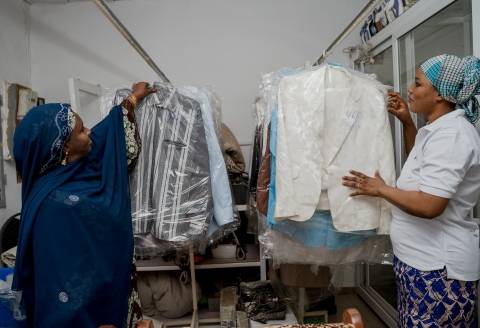 Associed fund
:
I&P Accélération au Sahel
Entrepreneur
:
Abdoul-Razak GARANKE SEYNI
Liberty Pressing is a company specialized in dry cleaning, ironing and laundry services in Niger. The company currently employs 11 people with a processing capacity of 44 kg/wash or 704 kg per day. It has a head office where all the linen treatment activities take place and which also serves as a linen collection point, and two annexes opened in the city of Niamey.
The entrepreneur
Liberty Pressing was created and is managed by Abdoul-Razak GARANKE SEYNI. Holder of a Bachelor of Science in Accounting and Finance (LSTCF) and a Master 1 option Accounting-Control-Audit (CCA) of the ESCAE of Niamey, he started in the laundry sector in 2013 in TOP NET PRESSING, which became TOP NETTOYAGE today, as a general manager. In 2018, he created his own company for which he brings his personal touch and experience. Mr. Seyni has an excellent knowledge of the operational aspects as well as the different elements that go into the quality satisfaction of his customers and takes care of the quality control, the packaging of the items and the grouped delivery of the treated items.
Partnership with I&P and SINERGI
Liberty Pressing is supported by I&P and SINERGI through I&P Acceleration in Sahel. The main objective of this partnership is to develop the company's activities, which today are mainly oriented towards individual customers, into a company capable of meeting the needs of hotel structures, hospitals/clinics, the private sector in B2B and the proposal of a new service on the market, which is self-service laundry and dry cleaning.
The seed funding will specifically allow to conduct a market study to refine Liberty Pressing's positioning
strengthen the production capacity
acquire additional "intelligent" machines that consume less product and water
strengthen the company's structure
Expected impacts
Improve the structure and organization of the company
Establishment of good governance
Creation of new permanent jobs
Preservation of the environment