Nouvelle Vision Scolaire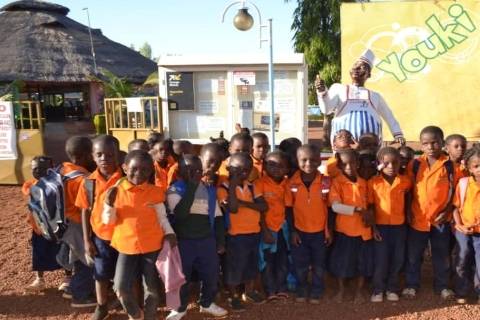 Associed fund
:
I&P Accélération, USAID PACE, Sinergi Burkina
Nouvelle Vision Scolaire (NVS) is a school created in 2013, located in the heart of the capital, Ouagadougou. With great success, the school quickly invested in a class for primary school and today has 4 classes and 3 classes for kindergarten with 255 pupils. This school has the particularity of introducing its pupils to English and computer science, agriculture and animal husbandry, music as well as swimming and karate.
THE ENTREPRENEUR
The New School Vision School is an initiative of Joel ZOMA, who has more than 17 years of experience in mass distribution, acquired in the management of Convergence Ramon Wende (CORAM), a distribution company with large surfaces in the big cities of Burkina Faso. He is also the initiator of the general trading company Grâce Business Services and of TGD Voyage, specialising in public transport.
CONTRIBUTION OF SINERGI BURKINA
NVS has been supported since 2019 by Sinergi Burkina as part of the Partnering to Accelerate Entrepreneurship (PACE) programme in partnership with the United States Agency for International Development (USAID).
The purpose of the partnership concerns :
Increasing reception capacity
Financing of the closure
Setting up of the accounting system
Increase in the transport capacity of pupils by adding a second bus
Installation of an emergency generator in the event of a power outage
---
ABOUT SINERGI BURKINA

Created in 2014, Sinergi Burkina is the first impact investment fund dedicated to financing and supporting SMEs and start-ups in Burkina Faso. Headed by Job Zongo, Sinergi Burkina is the second investment fund sponsored by Investisseurs & Partenaires as part of the I&P Développement 2 fund. The fund network currently includes a fund in Niger (Sinergi Niger), Côte d'Ivoire (Comoé Capital), Senegal (Teranga Capital) and Madagascar (Miarakap). → To learn more about Sinergi Burkina
ABOUT USAID PROGRAM
Investisseurs & Partenaires and the United States Agency for International Development (USAID) launched in 2016 an innovative acceleration program for young companies located in Niger, Burkina Faso and Senegal. The partnership will support high-potential start-ups and small and medium-sized enterprises to facilitate their access to financing in a region where the ecosystem supporting entrepreneurship is still underdeveloped.