Smart Predict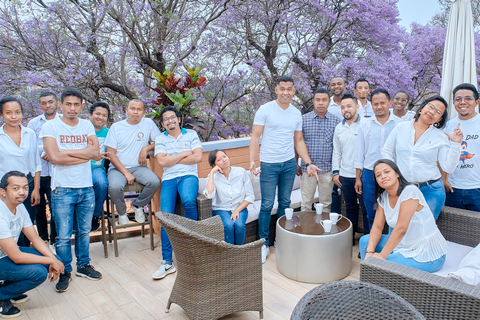 Status
:
Capital investment
Associed fund
:
I&P Accélération, I&P Accélération Technologies, Miarakap
Entrepreneur
:
Ranto ANDRIAMBOLOLONA
SmartPredict is a SaaS platform using artificial intelligence for predictive analytics that helps companies in the deployment of their projects. There are multiple uses in all sectors: consumer forecasts (industry), product recommendations (marketing), default predictions (banking and insurance), etc. With their latest tool, RetailForecastor, the company enables retail companies to predict their sales and optimize their activities by avoiding over- or underproduction.
SmartPredict has been developed since 2018 by Malagasy developers and data scientists and has required one million lines of code to date.
THE ENTREPRENEUR
SmartPredict is led by Ranto ANDRIAMBOLOLONA, a Malagasy entrepreneur in his 40s with a passion for artificial intelligence since his studies.
Graduated from ISPM (Institut Supérieur Polytechnique de Madagascar) and the University of Marne La Vallée, he has more than 10 years of experience in the ICT sector in Paris (Axway, PriceMinister, etc.). He came back to Madagascar to launch HaiRun and SmartPredict, driven by the conviction that Malagasy developers and datascientists have the skills to match those of European companies.
He quickly demonstrated his ability to lead young, ambitious and growing companies. His first company HaiRun grew from 6 to 100 employees in the space of two years and raised €250,000 through its partnership with the impact investing fund Miarakap.
Partnership with I&P and Miarakap
Miarakap has committed itself alongside the promoter in the structuring of the young company, the launch of SmartPredict and the future fundraising efforts it aims to achieve.
Thanks to the partnership between the French Development Agency (AFD), Investisseurs et Partenaires (I&P), and Miarakap within the framework of the program I&P Accélération Technologies, SmartPredict benefits from a funding notably dedicated to Research & Development, as well as commercialization.
Expected Impacts
⇒ Promoting a Malagasy company that performs in the technological and innovative sector of artificial intelligence
⇒ Creation of qualified and well-paid jobs for Malagasy developers and "data scientists", whose retention in Madagascar is a challenge.
---
About I&P Acceleration Technologies
Launched in 2019 with the support of the French Development Agency through its iniative Digital Africa, I&P Acceleration Technologies is a €2.5 million program that aims to finance and support some fifteen digital startups in Sub-Saharan Africa, with a focus on Western Africa, Central Africa and Madagascar. Cick here to read more →
About Miarakap

Miarakap is the first impact fund dedicated to the financing and support SMEs and start-ups in Madagascar. Managed by Emmanuel Cotsoyannis, Miarakap is the fourth African fund sponsored by Investisseurs & Partenaires as part of its program I&P Development 2. The network currently includes impact funds specialized in SME-financing in Niger (Sinergi Niger), Burkina Faso (Sinergi Burkina), in Senegal (Teranga Capital) and Côte d'Ivoire (Comoé Capital). Click here to visit Miarakap's website →