SOFACOB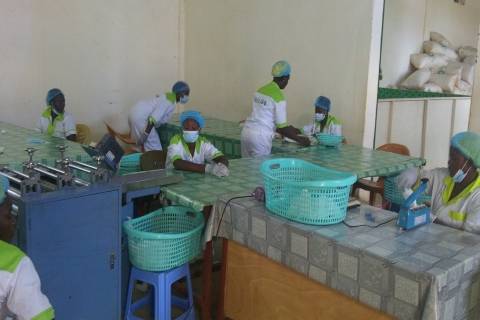 Associed fund
:
USAID PACE, Sinergi Burkina
Entrepreneur
:
Dr Céline KOBEANE
The Société de Fabrication du Coton Burkinabè (SOFACOB) is a company that transforms local cotton fibre into hydrophilic cotton for medical use. Created in 2016, SOFACOB begins to impose itself on a market that was once driven by imports. The company employs about twenty people, 75% of whom are women assigned to packaging tasks.
SOFACOB is accompanied by Sinergi Burkina since 2019 as part of the Partnering to Accelerate Entrepreneurship (PACE) program in partnership with the United States Agency for International Development (USAID).
THE ENTREPRENEUR
SOFACOB was created by Dr Céline KOBEANE, senior pharmacist of the Savannah Pharmacy, and graduate of the University of Ouagadougou. Thanks to her experience, she masters the supply circuit of medicines and medical consumables. After training in China, she aims to put all cotton-based medical consumables on the local medical market.
CONTRIBUTION OF SINERGI BURKINA
The purpose of the accompaniment can be summarized in 3 points:
testing new products intended for the mass distribution market
structure the company's accounting department
strengthen the company's working capital requirement
About Sinergi Burkina

Created in 2014, Sinergi Burkina is the first impact investment fund dedicated to financing and supporting SMEs and start-ups in Burkina Faso. Headed by Job Zongo, Sinergi Burkina is the second investment fund sponsored by Investisseurs & Partenaires as part of the I&P Développement 2 fund. The fund network currently includes a fund in Niger (Sinergi Niger), Côte d'Ivoire (Comoé Capital), Senegal (Teranga Capital) and Madagascar (Miarakap). → Sinergi Burkina website.
ABOUT USAID PROGRAM
Investisseurs & Partenaires and the United States Agency for International Development (USAID) launched in 2016 an innovative acceleration program for start-ups in Niger, Burkina Faso and Senegal. The partnership is designed to support high-potential start-ups and small and medium-sized enterprises in order to facilitate their access to financing in a region where the ecosystem supporting entrepreneurship is still poorly developed. Click here to learn more.