Solarly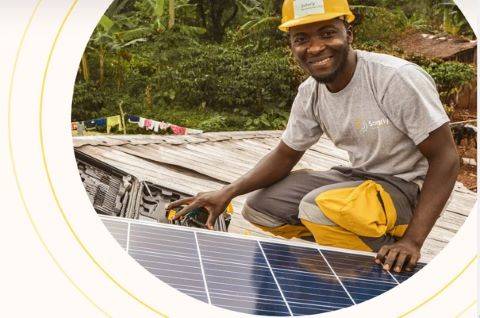 Associed fund
:
I&P Digital Energy
Entrepreneur
:
Julien Riat
Founded in 2016, Solarly is a Cameroonian company supplying off-grid solar energy solutions (not connected to the traditional electricity grid): it offers its solutions in rural and urban areas with a focus on energy needs for productive use (health centers, schools, small industries) but also for basic household electrical needs.
Its leading products are :
-The SolarlyBox, a stand-alone off-grid solar system that supplies continuous energy by connecting solar panels, batteries and various equipment (fridge, television, telephone charging cable). The SolarlyBox is a connected object (Internet of Things), enabling :
Performance monitoring, to anticipate and solve problems
Data collection on usage
Remote control and activation based on user payments
-AC Kits, combinations of components, integrated and marketed in a standardized way to meet the most frequent needs, such as :
Powering the most popular basic appliances: lamps, cell phones, radios and TVs
Powering a water pump for irrigation and/or a water tower
Powering a fridge or freezer for food preservation
Power an incubator for chick rearing
Today, it is estimated that more than 20,000 people are impacted by the Solarly product, either directly (households) or indirectly (hotels, health centers and schools).
The entrepreneur
Julien Riat is 31 years old and originally from Belgium. After graduating in Economics and Business Administration from the Université Catholique de Louvain (2012) and in International Business from EPHEC (2014) in Belgium, he joined an association that assists disabled children. He then joined Travis and Lloyd as a Business Developer. At a very young age, he embarked on the Solarly adventure with two of his friends. The three of them formed the basis of the project, later joined by other partners.
Partnership with I&P
Solarly is supported by I&P through I&P Digital Energy. The aim of the funding is to :
Support the implementation of the company's new commercial and operational strategy to accelerate growth
Roll out the new research and development phase
Contribute to the opening and development of new hubs
Strengthen WCR
Expected impacts
Access to energy for vulnerable populations
Improving the provision of health and education services through the electrification of health centers and schools that have benefited from Solarly's solar installations.
Improving the agricultural and craft production capacities of small rural and informal production units
Improving the quality of service for small and medium-sized businesses in urban areas, thanks to a continuous supply of energy.