Entrepreneurs' portrait: Matthias Papet et Eric Genetre, co-founders of CoinAfrique
Submitted by

Admin

on Wed, 10/23/2019 - 15:34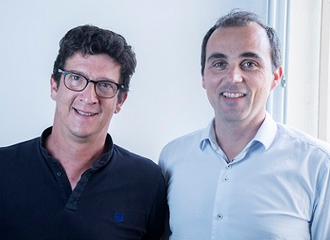 English
As one of the first investments of the IPAE 2 fund, CoinAfrique is a 100% mobile community platform designed to buy and sell products simply in French-speaking Africa. Created in 2015, CoinAfrique currently has more than 1.4 million downloads and approximately 500,000 active monthly users.
We met the co-founders of the platform: Matthias Papet, its President, an expert in new technologies and e-commerce, and Eric Genêtre, its Managing Director, in charge of the financial and administrative aspects of the company.
Interview of Matthias Papet et Eric Genetre, co-founders of CoinAfrique
A few words about your link and the story behind the creation of CoinAfrique ?
Matthias : We have been friends for a long time. We met more than ten years ago through... our daughters, who were in the same kindergarten! We have always remained close despite the geographical distance, each working on his own before we joined this project together. I have an e-commerce and digital marketing profile, and I have worked for companies such as Air France, Google.
Eric : For my part, I have an engineering profile, and I have specialized in project management, at Vinci Concession or Bouygues for example. Our professional backgrounds are very different, but ultimately rather complementary.
Matthias : I launched the project at the end of 2014 with a first version of CoinAfrique, and then Eric joined me very quickly, first as an investor, then as a co-founder. The aim of the project was to connect buyers and sellers in French-speaking Africa through a mobile classified ad platform. It was when Eric arrived that we really started the fundraising phase.
What are your main responsibilities within the team ?
E. : I take care of the administrative and financial part of the company as well as the products. Matthias focuses on business development and marketing. We both manage the company as co-founders and focus at the same level on the topics of recruitment and talent search. We work together to find marketers, developers and also take care of employee retention.
Why have you chosen to develop in several countries, and why focus on French-speaking Africa ?
M. : Francophone Africa is an area with high potential, especially for this type of service. It is also a homogeneous area in several respects. There is a common currency, language and media network. This makes it possible to establish a company that targets the entire region, because there is, particularly through the media system, a real ability to target users from several different countries at once. The main challenge we face, is to create a global service across this area, in order to cover as many users as possible, while maintaining content and a quality user experience.
E. : It is also a question of market size. The countries we are targeting are small in terms of population size. In addition, our company does not have many fixed costs. We do not have to bear the costs of delivery or warehouse financing, but only holding costs. Targeting only one country means restricting the company's revenue potential in relation to the costs we have.
M. : However, lauching a start-up in the region represents some difficulties. The main challenge is to adapt an economic model of classified ads to the African context, which is urban, mobile, but above all very random in its network connectivity. Another specificity of Africa is that the target population is more diffuse. There are a few individual vendors on the platform, but the vast majority are semi-professional, often (all or part) informal.
Did you know the African continent well before launching CoinAfrique ?
M. : I come from Reunion Island, so I have a personal connection with the African continent. I have visited southern Africa, Mali and other countries several times. That said, I knew Africa in a personal context, not from a business point of view. The main challenge was to familiarize ourselves with the continent in order to start a business there.
Are there any major differences between the markets in which you operate ?
E. : In the five countries in which we operate, we notice the same typology of products being posted or searched on the platform. These are mainly vehicles, mobile/digital products and then clothing or fashion accessories. What changes above all is the digital context of a country, and therefore the concentration of the marketing resources that we will use. For example, Senegal or Côte d'Ivoire are countries with more mobile use, and thus more reactive online users. Other countries, such as Benin or Togo, require more support because they are less familiar with mobile use. The big difference is therefore Internet penetration, rather than the demand for product types.
How did you meet I&P ? What does your partnership involve ?
E. : We were looking for an investor who could support us over the long term and help us explore the African continent, which is promising but also presents many challenges, especially in the technology sector. We did not necessarily fit into the search criteria of Venture Capital players, who require very high profitability and have a rather short-term view.
M. : I&P seemed to be a partner that best matched our expectations. First of all, there is a strong thematic and moral alignment between I&P and CoinAfrique: we find ourselves in the desire to promote African entrepreneurial dynamics! I&P also has an important knowledge of French-speaking Africa and is able to support us over a period of several years, which is essential at our stage of development. I&P's investment has helped to structure the company. Our objective today is to be able to reach a second round of financing in order to increase our market share, acquire more users and reach a critical size, so that we can then launch the expansion of CoinAfrique in other countries.
How are you doing today ? What are your development projects for the coming years ?
M. : Today, CoinAfrique represents about fifty employees, including about twenty moderators. These people are based in Dakar, our operational centre, but there are also sales teams in four other countries: Côte d'Ivoire, Benin, Togo and Cameroon.
E. : At present we cover five countries in the French-speaking area, but our ambition is to be present in all 12 countries. Today, we have more than 1.3 million visits to our website and 1.4 million downloads from our application. Our goal is to reach 20 million users within the next five years.
What is your impact in the region ?
M. : The real impact that the company provides is at the level of the sellers (professional and semi-professional). Indeed, the real volume of content is held by semi-professional individuals, i.e. they have other parallel occupations besides the sale of products on CoinAfrique. We conducted a study and called 10% of our sellers to understand their level of satisfaction and the impact of the platform on their sales. The level of satisfaction was between 75% and 80%.
How is the process of recruitment in your teams ?
E. : The CoinAfrique team is predominantly African. In this profession there is little turnover, as employees receive stable incomes and are rather satisfied with their working environment. The most challenging part of recruitment is to find profiles of experts in IT development or marketing and sales. There are relatively few students trained in these sectors who enter the labour market each year.
M. : Since the arrival of I&P, we have really structured our middle management, with the recruitment of a marketing director, an operational director and a product manager. We also have a presence in each country in which we operate, with a sales manager in Benin, Cameroon, Côte d'Ivoire and Cameroon. Every quarter, we bring the team together for three days in Dakar to work on the company's development strategy. We are convinced that it is essential to invest in our human capital, and that is why we invest a lot in training.
What are your recent news and future projects ?
M. : Our major news is the implementation of the monetization of our services. In the coming months, we want to set up paid offers, with several pricing options. For example, a seller may, for a small amount of money, have his ad positioned at the top of the page, and therefore receive a small boost to sell faster. These boosts can be purchased individually or as a pack (several units) for professional sellers. For users the platform remains completely free of charge.
USEFUL LINKS