The European Union, in partnership with I&P, funds 28 start-ups in the Sahel region
Submitted by

Admin

on Tue, 03/30/2021 - 12:01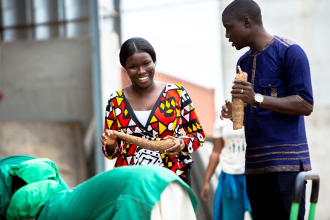 English
Officially launched in July 2020 (press release from 07/10/2020) with the support of the European Union, I&P Acceleration in Sahel program has funded in 6 months 28 growing small businesses in the Sahel sub-region.
To boost the development of start-ups in the Sahel sub-region, the European Union is a partner of I&P Acceleration in Sahel, a support program that offers technical and financial assistance to small businesses and start-ups based in Sahel that are too young to benefit from traditional financing (bank loan, capital investment, etc.). Learn More
Launched less than one year ago, I&P Acceleration in Sahel concludes 2020 with a positive result: 28 SMEs and start-ups (nearly 40% of which are run by women) based in Niger, Burkina Faso, Mali, Côte d'Ivoire, Ghana and Senegal and operating in various business sectors (agribusiness, cosmetics, education, vocational training, health, services, textiles…) have benefited from seed financing up to €60,000 and technical assistance to accelerate their chances of business success.
Click here to discover the profile of the beneficiary companies.
Among these companies, 13 have benefited from an exceptional financial support to adapt their business model and maintain their activities in response to the covid-19 pandemic and the economic impacts generated by the crisis.
Financed by the European Union through the Emergency Trust Fund for Africa (EUTF), this program has contributed this year to create 241 jobs (permanent and temporary) and maintain 955 jobs (permanent and temporary), in particular for young people and women.