Fostering the entrepreneurial ecosystem in Mali: Feedback from the information meeting with Malian private sector actors
Submitted by

Admin

on Fri, 10/14/2022 - 14:14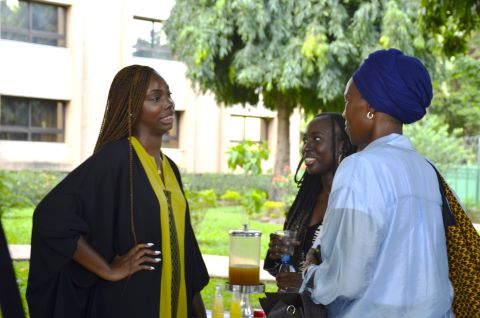 English
Last Tuesday, October 4, 2022 at the Azalaï Hotel in Bamako, I&P in partnership with Zira Capital and the European Union organized an information meeting to present I&P Acceleration in Sahel (IPAS), a program dedicated to young companies in the Sahel sub-region.

Learn more about I&P Acceleration in Sahel
Emerging future champions of entrepreneurship in Sahel
This meeting, moderated by Mr. Aliou DG Mossa, brought together about fifty participants involved in the development of entrepreneurship in Mali. Aïcha Haïdara, Head of seed funding based in Mali at Zira Capital, explained the purpose and ambition of IPAS program, launched by Investisseurs & Partenaires (I&P)
"There are many reasons why banks do not want to lend to companies: unreliable financial statements, weak company structures, etc. All this creates a climate of mistrust. IPAS helps companies in the early stages of their development by offering technical and financial support to strengthen their governance so that banks can finance them."
Sophie Ménager, director of IPAS, presented the first results of the program: with 72 companies financed, and 190 people trained in specific business development topics, the program has already contributed to the creation and maintenance of 2,000 jobs in the Sahel (Mali, Burkina Faso, Chad, Niger, Mauritania) and several surrounding countries (Côte d'Ivoire, Ghana, Cameroon, Togo, Benin, Senegal, Gambia, Guinea)
"On average, a company supported by the program sees a 70% increase in sales and a 50% increase in employees in the first year of funding."
In Mali, the program is already effective, with 5 companies financed and 1 incubator supported that meet predefined criteria and demonstrate a strong impact on job creation and promotion.
Several beneficiaries of the program, including Namissa Théra (Ikalook), Adam Soreya Sylla (Karit'Or), Awa and Adam Drabo (2AD Company), were able to share their experience and attest to the contribution that this type of collaboration with impact investors provides. For the past few months, these entrepreneurs have been receiving personalized support to help them scale up and prepare them for fundraising. More concretely, this support allows them to meet operating expenses, finance pilot and prototyping phases, purchase equipment and technologies, but also to support entrepreneurs in structuring and strengthening their governance.
This program is also aimed at incubators, and Aly Kouma, who is in charge of support programs at Donilab, a Malian business incubator, explained how the support he received through the Investment Readiness training program will help him better guide entrepreneurs in their entrepreneurial adventure and in their search for funding.
Fund creation project accelerates
As IPAS participates in supporting SMEs in the Sahel sub-region, this program also aims to create local investment funds that will develop and offer support tools specific to small and medium-sized enterprises according to their stage of development. In Mali, this component is already well underway with the creation of the first Malian investment fund, Zira Capital, currently in the closing phase. A young team of Malian professionals with knowledge of the entrepreneurial ecosystem has already been recruited and is active : a win-win situation for entrepreneurs and actors of the entrepreneurial ecosystem in Mali.
The European Union, a partner in this ambitious project and represented by Silvia Severi, welcomed this initiative and encouraged all private sector actors to create synergies to facilitate the Malian business climate.
About I&P Acceleration in Sahel

I&P Acceleration in Sahel is a program for start-ups and small and medium enterprises in West Africa with one main objective: to give them access to financing and the skills they need to enable their development and thus promote the creation of decent and sustainable jobs in the sub-region. Learn more about I&P Acceleration program in Sahel.