Financing the energy transition in Africa: launch of the Gaïa Energy Impact Fund II
Submitted by

Admin

on Tue, 03/21/2023 - 11:37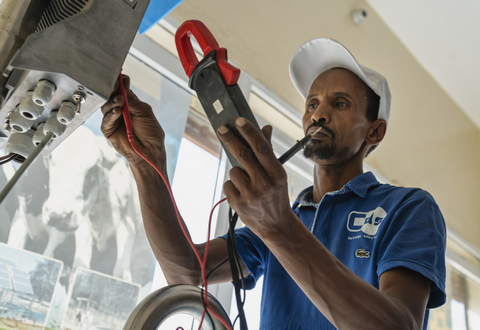 English
Schneider Electric, Capelan, Capital Croissance and Investisseurs & Partenaires (I&P) are partnering with the Gaia Impact team to launch Gaia Energy Impact Fund II, a venture capital fund specializing in the energy transition in Africa and supporting entrepreneurs with strong environmental and social impact.
The fund is managed by Capital Croissance, and the Gaia Impact team is the exclusive advisor. Schneider Electric and Capelan are each investing €15M. I&P will bring its expertise on the different countries of the African continent and technical assistance to the Gaia Impact team, notably on ESG methodologies and impact strategy.
Download the press release
Gaia Energy Impact Fund II is an investment fund that meets the demanding impact guidelines, linked in particular to Article 9 of the SFDR (Sustainable Finance Disclosure Regulation, an EU regulation aiming at regulating financial operations in order to support sustainable development and the fight against global warming).
This fund, which is targeting €80M in commitments, will bring together an agile coalition of entrepreneurs, families and family-offices, companies and institutional investors, eager to reconcile economic return, social impact and environmental impact.
The fund will invest, in equity and quasi-equity, between €500,000 and €5 million in around twenty companies in the seed or growth phase. The majority of investments will be made in companies operating in Africa, in the sectors of energy access, productive use of energy, electric mobility, new energies and enabling technologies.
It aims to bring energy to 4 million people, create 20,000 jobs while saving 4MT of CO2.
Hélène Demaegdt, President and founder of Gaia Impact: "We are delighted to be joined by new partners. Thanks to them, our action in favor of the energy transition in Africa takes a new dimension. We are convinced that this new coalition of expert, complementary actors aligned on the same vision will enable the Gaia Impact team to strengthen its social and environmental impact, by promoting the conditions for economic development."
Jérémy Hajdenberg, co-CEO of Investisseurs & Partenaires: "Impressed by the dynamism and expertise of Gaïa's team, we are determined to bring I&P's complementary viewpoint and to implement numerous synergies on site. Acting in favor of renewable energies in Africa is an obvious urgency and we are proud to participate, with Schneider and Capital Croissance, in this initiative supporting entrepreneurs who are transforming Africa and implementing innovative solutions every day."
Useful links