I&P Acceleration in Sahel: the program is deployed in six new countries in the Sahel sub-region
Submitted by

Admin

on Fri, 12/17/2021 - 10:53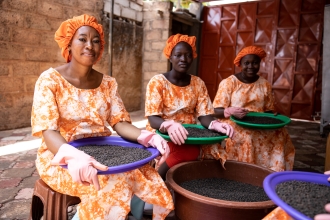 English
Launched in 2020 with the support of the European Union, I&P Acceleration in Sahel is developing its activities in six countries of the Sahel sub-region: Benin, Togo, Ghana, Guinea, Mauritania and Chad.

Back to the video presentation of the program
LOCAL ACTORS IDENTIFIED FOR THE PROGRAM'S IMPLEMENTATION
To accelerate the development of start-ups and early-stage companies in the Sahel, I&P and the European Union have launched I&P Acceleration in Sahel, an innovative program that offers seed financing and technical assistance missions to small businesses and start-ups considered too young to benefit from traditional financing (bank loan, capital investment, etc.). Learn more about the program.
After a year dedicated to the launch and implementation of the program in the six main countries where I&P has a team dedicated to the program (Burkina Faso, Cameroon, Côte d'Ivoire, Mali, Niger and Senegal), I&P is partnering with local actors specialized in SME financing and support to start its activities in five other countries in the Sahel sub-region.
The implementation of activities will be ensured by :
I&P partners are now in charge of identifying companies eligible for the program and following up on the first applications.
THE NEXT STEPS: IMPLEMENTATION OF THE PROGRAM IN MAURITANIA
In order to cover all 13 countries in the Sahel sub-region identified for this program, I&P is launching a restricted call for tenders next week to select a partner in Mauritania, the 13th and final target country for I&P Acceleration in the Sahel.
These various partnerships with local players who have mastered their ecosystems will enable us to find, support and help innovative, competitive SMEs emerge, promoting growth and job creation in the Sahel region, which is not very attractive to investors.
About I&P Acceleration in Sahel

I&P Acceleration in Sahel is a program for start-ups and small and medium enterprises in West Africa with one main objective: to give them access to financing and the skills they need to enable their development and thus promote the creation of decent and sustainable jobs in the sub-region. Learn more about I&P Acceleration program in Sahel.
This ambitious program, which to date has funded 47 companies and supported 10 incubators in 8 countries in Sahel, is financed by the European Union through the Emergency Trust Fund for Africa, a financial instrument to respond quickly, flexibly and effectively to emergency situations related to the migration crisis and forced displacement, and to propose sustainable solutions to the root causes of migration. For more information, visit the official website of the European Union.