I&P Afrique Entrepreneurs 2 (IPAE 2) carries out its first investments
Submitted by

Admin

on Tue, 10/09/2018 - 20:59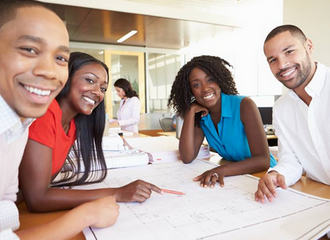 English
The fund I&P Afrique Entrepreneurs 2, launched in December 2017 with a first closing at €50 million, made its first investments. Operating in various sectors of activity, the first companies of IPAE 2 portfolio share a common feature: the choice to develop their activities, from the outset, in several African countries. Two of them also share a strong technological component.

Download the Press Release
Photo: © African Management Initiative
Three African SMEs with a strong regional dimension
A few months after its launch, IPAE 2 welcomes three new companies in its portfolio:
Afribon is specialized in the development, production and marketing of food flavors. Created in 2012, the group comprises five production sites, in Cameroon and East Africa (Kenya, Uganda, Rwanda, Tanzania). Read more ž
African Management Initiative (AMI), launched in 2014, is pioneering a scalable approach to workplace learning for Africa, blending online and in-person training to reach 20,000 people in 11 African countries. Read more ž
CoinAfrique is a mobile platform launched in 2015, designed to easily sell and buy products within the community of users. Read more ž
"More and more we meet companies such as Afribon, AMI or CoinAfrique, aiming for multi-country expansion. Besides, African companies are increasingly integrating new technologies into their service offering and/or business model," explains Jérémy Hajdenberg, Chief Investment Officer at I&P.
IPAE 2'S OBJECTIVES OVER THE NEXT FIVE YEARS
With a target size of €80 million (a second closing between €70 and 75 million will be announced by the end of 2018), IPAE 2 aims to invest in equity and quasi-equity in 30 to 40 startups and SMEs over the next five years in Sub-Saharan Africa, particularly in West and Central Africa, but also in East Africa and Madagascar. IPAE 2 is a generalist fund that supports companies operating in various sectors (such as agro-industry, microfinance, health, education, construction...).
IPAE 2's investment ticket size can reach up to €3 million, allowing I&P to support mature companies and large projects. This category of high-potential SMEs represents a powerful growth driver in Africa, but very few equity or debt investors are willing to finance them.
Besides equity investment, IPAE 2 provides companies with active participation in their governance, personalized managerial support and technical assistance resources, enabling them to reach their full potential in terms of growth and impact. ESG (Environment, Social, and Governance) issues and impact measurement are at the heart of IPAE's investment model: IPAE 2 aims to deliver significant financial return and essential social and environmental impact, including notably: the promotion of a new generation of African entrepreneurs, the use of local subcontractors, job creation, the promotion of women's entrepreneurship, the protection of the environment, etc.