I&P completes two new exits
Submitted by

Admin

on Mon, 09/26/2016 - 17:35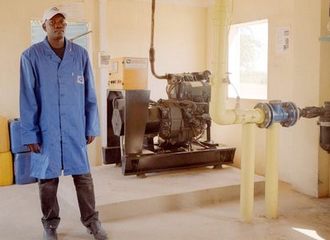 English
I&P Développement 1 (IPDEV1), Investisseurs & Partenaires' historical fund launched in 2002 by Patrice Hoppenot, realized two new exits in Mauritania and in Senegal.
In it ten years of operation, IPDEV1 has invested 11 million euros in 33 startups and small businesses based in Sub-Saharan Arica. With these new exits, the fund records close to twenty exits and demonstrates the viability of I&P impact investment model.
Two exits in line with I&P's impact strategy
Duopharm, in Senegal: Duopharm is an independent company specialized in the distribution of pharmaceutical products, launched under the initiative of 150 pharmacists. IPDEV works with Duopharm since its creation. In a few years Duopharm achieved a breakthrough in the Senegalese pharmaceutical landscape, counting about 320 shareholders, and close to 5,000 references. IPDEV will sell its shares to the pharmacists who founded the company over the coming months.
CDS in Mauritania: CDS provides water and energy access to rural and underserved communities in Mauritania. The company has provided access to water or electricity services to over 30,000 people and has emerged as one of the leaders in the field of renewable energy, developing a complete range of photovoltaic and solar products. In partnership with CDS' promoter, Sidi Khalifou, IPDEV is selling its shares to Engie Rassembleurs d'Energies and the Monaco-based impact firm SADEV. Both these partners will continue to support CDS in its development strategy and impact objectives.
The companies in portfolio continue to show a solid performance, with an average growth rate of the turnover of 16 in 2015. Their impact on local development has been significant, including notably the creation of 1,300 jobs, the support of 7,000 smallholders and local suppliers and the implementation of paid maternity leave for 80% of the companies in portfolio.
These exits are in line with the investment and impact strategy of Investisseurs & Partenaires, which invests as a minority shareholder and aims to maximize the social impacts of the companies in portfolio on local development.
Exit routes are broadening and diversifying in Sub-Saharan Africa
Reflecting on IPDEV1 disinvestment phase, which should be achieved by 2019, Sébastien Boyé, Chief Investment Officer at I&P, explains: "It was maybe true that secondary buyouts and trade sales were difficult in the African SME investing space, but this idea is now out of date. For example, out of the 20 exits IPDEV realized, 7 were management buyouts. In the other case, I&P's stake was sold to third parties such as investment funds, suppliers, customers or industrial players".
This analysis is reflected in a recent study published by the Africa Venture Capital Association (AVCA) and Ernst & Young, ''broadening horizons: how do private equity investors create value?''. The impact investing industry is rapidly growing on the continent and the exit options are becoming more and more diversified. The study identifies a total of 247 exits over the period 2007-2014, with a strong activity in East and Southern Africa.