I&P explores new opportunities with private sector actors in Guinea
Submitted by

Admin

on Thu, 03/10/2022 - 18:43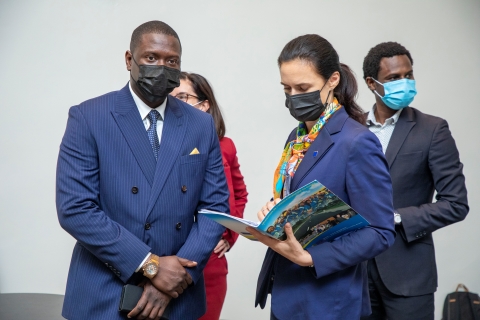 English
On March 3, 2022 in Conakry, I&P co-organized with Molam Capital and the European Union delegation, an information meeting with the main actors of the private sector. I&P talked about the implementation of I&P Acceleration in Sahel in Guinea and its project to create the first Guinean investment fund.
This meeting, led by Mamadou NDAO (I&P), Sophie MENAGER (I&P), Jurate SMALSKYTE (Delegation of the European Union in Guinea) and Mouctar BAH (Molam Capital), took place in the presence of several personalities and ministries including
Mr. Benoit KAMANO, Deputy Secretary General of the Government
Mrs. Diana KOUYATE, Director General of the Private Investment Promotion Agency (APIP-Guinea)
Mr. François Soumah, Representative of the Ministry of Commerce, Industry and Small and Medium Enterprises and several other representatives of the Ministries
Representatives of the Ministry of Agriculture and Livestock, Ministry of Technical Education and Vocational Training, Ministry of Posts, Telecommunications and Digital Economy, Ministry of Fisheries and Maritime Economy
A presentation of innovative and adapted financing solutions for Guinean SMEs
After highlighting the role of start-ups and SMEs in the local economy, several innovative financing and support solutions were presented, including I&P Acceleration in the Sahel, aimed at start-ups and small and medium-sized enterprises in their early stages. To learn more about this program
The European Union, which finances this program and represented by the Head of Sector Economy, Growth and Health DUE Guinea Jurate Smalskyte, welcomed this innovative initiative which is part of a broader strategy to support the private sector.
The objectives of this third year of the program are ambitious, and I&P has partnered with the Molam Capital fund for the deployment in Guinea:
"This year, we want to finance at least 5 young Guinean companies, formal or in the process of formalization, that are committed and generate positive social and/or environmental impacts, and support at least one incubator through the component dedicated to entrepreneurial support structures. We have chosen Molam Capital to identify, evaluate and support locally these companies that will benefit from the program"

Sophie Ménager
In addition to seed activities, I&P wishes to focus on active SMEs with financing needs of up to €500,000 (5 billion Guinean francs) through the creation of a Guinean impact investment fund.
An opening to create synergies between the different actors of the private sector
This meeting, which brought about sixty participants, was an opportunity to strengthen the dialogue between the various actors of the public and private sector and to invite the different stakeholders to work together to promote entrepreneurship and to create competitive SMEs in Guinea.
About I&P Acceleration in Sahel

I&P Acceleration in Sahel is a program for start-ups and small and medium enterprises in West Africa with one main objective: to give them access to financing and the skills they need to enable their development and thus promote the creation of decent and sustainable jobs in the sub-region. Learn more about I&P Acceleration program in Sahel.
This ambitious program, which to date has funded 47 companies and supported 10 incubators in 8 countries in Sahel, is financed by the European Union through the Emergency Trust Fund for Africa, a financial instrument to respond quickly, flexibly and effectively to emergency situations related to the migration crisis and forced displacement, and to propose sustainable solutions to the root causes of migration. For more information, visit the official website of the European Union.