I&P makes its first funding in Togo: Lomé Business School
Submitted by

Admin

on Fri, 02/11/2022 - 13:15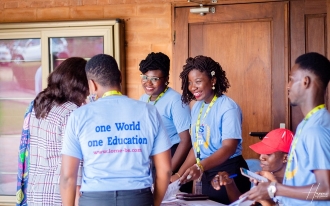 English
Investisseurs & Partenaires (I&P), which is specialized in financing and supporting small and medium-sized enterprises in several sub-Saharan African countries, has taken a new step forward with the funding of its first company in Togo.
Since its creation in 2002, I&P has supported nearly 170 companies based in fifteen African countries in West Africa (Benin, Burkina Faso, Cameroon, Ivory Coast, Ghana, Mali, Mauritania, Niger, Nigeria, Senegal), Central and East Africa (Kenya, Uganda, DRC) (Comoros, Gabon, Cameroon), the Maghreb (Morocco) and Southern Africa (Madagascar, Namibia). I&P welcomes its first Togolese company, Lomé Business School, a university establishment providing training in management (marketing, finance, logistics, HR) and IT management. Find out more about the company.
Founded in 2013 by two entrepreneurs, Lomé Business School is supported through the education and employment component of I&P Acceleration in Sahel. Learn more about the program.
« For about thirty years, private higher education in Togo has been making progress. Since 2010, the call for international investments for an inclusive and sustainable economic growth, accelerated by the National Development Plan (NDP) initiated by Togo, requires quality human resources and imposes challenges of excellence to higher education, including the adoption of international standards, practical training "learning by doing" to produce operational talents, preparation for new jobs in IT and management. Our model is based on access to digital and technological equipment for all students, training by national and international experts and personalized support, practical internships in companies each year and student entrepreneurship to guarantee 100% professional integration, international openness for students from more than 10 African countries and academic exchanges with European business schools. I&P's funding and support will also help strengthen our impact on the quality of education and employability in Togo and the sub-region. With Patience, we believe like Benjamin Franklin that an investment in knowledge pays the best interest.

Fulgence Amani, co-founder of Lomé Business School
"I&P is proud to welcome in its portfolio a school that is open to Africa and that welcomes students from a dozen countries in the French-speaking world. The founders of Lomé Business School have built a school with high performance requirements, with quality training courses designed according to international standards. The programs are in adequacy with the evolution of the needs of the professional world and guarantee to the graduates a good level of employability".

Marcel Ayereby Etchian, Seed Manager of I&P Education & Employment program - I&P Acceleration in Sahel.
About I&P Accélération in Sahel

I&P Acceleration in Sahel is a program for start-ups and small and medium enterprises in West Africa with one main objective: to give them access to financing and the skills they need to enable their development and thus promote the creation of decent and sustainable jobs in the sub-region. Learn more about I&P Acceleration program in Sahel.
This ambitious program, which to date has funded 47 companies and supported 10 incubators in 8 countries in Sahel, is financed by the European Union through the Emergency Trust Fund for Africa, a financial instrument to respond quickly, flexibly and effectively to emergency situations related to the migration crisis and forced displacement, and to propose sustainable solutions to the root causes of migration. For more information, visit the official website of the European Union.