Portrait: Sokhna DIAGNE & Jules Kébé, Duopharm
Submitted by

Admin

on Mon, 07/25/2016 - 12:07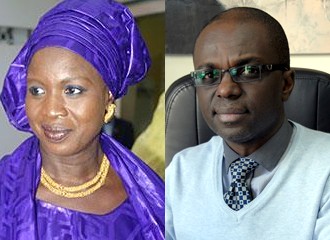 English
I&P publishes each quarter the portrait of one of its partners.This month we focus on Sokhna Ndiaye and Jules Kébé, chairman and CEO of Duopharm in Senegal.
Duopharm distributes pharmeceutical products (more than 4,500 references to date) throughout the country. The company was created in 2003 under the initiative of Dr. Jules Kébé and a group of Senegalese pharmacists and has achieved a breakthrough in the Senegalese pharmaceutical landscape thanks to its proximity marketing strategy.
Dr. Sokhna Ndiaye, Chairman of Duopharm, manages one of the biggest pharmacy of Dakar. She is deeply involved in health issues in Senegal.
Dr. Jules Kébé is one of the pharmacists involved in the project since the very beginning. Before joining Duopharm, he directed the COPHASE, one of the two leaders of pharmaceutical distribution in Senegal.
3 questions to S. Ndiaye and J. Kébé:
Could you explain to us the reasons that led you to launch Duopharm in 2003?
Jules Kébé : "With a group of other pharmacists, we were convinced that there was room for a Senegalese actor in the pharmaceutical distribution market. Our obective was, and still is today, to promote a local production able to answer the needs of the population in Senegal"
Sokhna Ndiaye : "For us, pharmacists are not just here to provide medicine. They have a key role to play in supporting and financing a strong local industry. It is an important step to reduce our dependance on importations".
70% of Duopharm's capital is held by Senegalese pharmacists, who are today more than 300. How is this organization working?
S.D. "this shareholding structure is really part of our identity. From 6 founding members, Duopharm counts about 300 shareholders today. The company works more or less like a pharmacist cooperative, while the decision-making process remains sufficiently concentrated in the hands of the founders. The founders have done a great job setting up a group able to gather the different components of the pharmaceutical industry"
I&P works with Duopharm since 2010 and is now preparing its exit. What are your projects in the medium and long-term for Duopharm?
J.K. "Working with a private equity investor has been an important step in the development and growth of Duopharm, as we beneffited from a professional analysis on the viability and relevance of our project. We wish to consolidate our achievements, with the objective to conquer 15% of the market share by 2017. We built a new warehouse to increase our storage capacity and satisfy the needs of our clients (more than 600 to date)."
S.D. "In the longer term we'd like to start distributing generic medicines and diversify our products (sterile compresses, bandages...) We are also planning to set up a training program for the employees."
Useful Links