Thelma Kodowu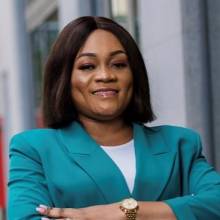 Thelma joined I&P in 2023 and holds the position of Investment Manager within the Mastercard Foundation Africa Growth Fund. She is based in Accra.
She has 10+ years demonstrated track record in financial advisory and private equity investing in SMEs especially in Ghana and Nigeria, from her time at Synergy Capital Advisory and Synergy Capital Managers.
Thelma is passionate about impact investing and the growth potential of SMEs in sub-Saharan Africa with a focus on minority and gender-lens investing. Driven by this passion, she co-founded InvestPro Advisors, an advisory business targeted at investment readiness and venture building for women owned/led businesses in Africa to build and implement sustainable and inclusive strategies to scale.
Thelma also has key experience developing venture building and learning programs, mentoring and coaching SMEs while working with accelerators, foundations, development programs, venture builders and endowment funds focused on Africa. Thelma graduated with an MBA in Finance from Coventry University.