Codetrain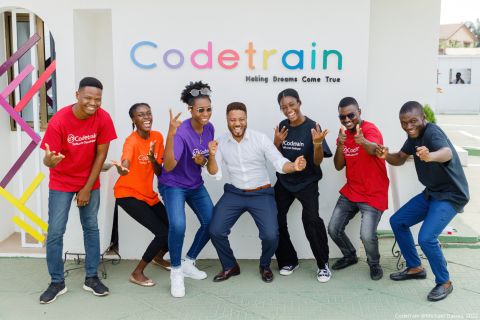 Associed fund
:
I&P Education et emploi
Entrepreneur
:
Richard Brandt
Codetrain is a coding bootcamp school designed to provide aspiring software developers with the technical skills that will allow them to have a career in the software development industry. The founder, Richard Brandt, first thought about setting up a coding school when he had trouble finding interns with hands-on experience.
«I selected a group of students from various universities and a few high school graduates, and started teaching them how to code. The results were amazing, and one remarkable thing was that their friends kept asking if they could also join the training. That is when I knew that I was doing something that had high impact potential » - Richard Brandt (link)
The school offers two curricula: full stack web development and mobile app development. The program focuses on practical teaching and interactive learning. Codetrain opened its doors in 2017, in the cities of Accra and Kumasi and has since trained 500 students and has a 90% job placement rate.
A graduate in mathematics from Kwame Nkrumah University in Ghana, Richard Brandt began his career as a data analyst. His passion for entrepreneurship caught up with him so he spent two years training at the Meltwater Entrepreneurial School of Technology (MEST). He was taught practical skills in software development and business creation. His first excursion into the entrepreneurial world was for merchants looking to improve their conversion rates. Then, his passion led him to Chile, where he joined an incubator, and then to Germany. In 2017, willing to give the youth the tools to join the digital revolution and impact their communities, he founded Codetrain.
PARTNERSHIP WITH I&P
Through its I&P Education and Employment program, I&P has committed to Codetrain to:
⇒ Support the digitalization strategy through the development of an e-learning platform and the improvement of the video content offer,
⇒ Support the implementation of a scholarship program, especially for young women, and ensure sustainable funding,
⇒ Strengthen the employability rate of students and graduates by recruiting a professional in charge of relations with international and local companies to assist them in their search for internships and jobs.
EXPECTED IMPACTS
⇒ Expand the accessibility of the training offer across Ghana through the creation of an e-learning platform.
⇒ Enable youth, women and vulnerable populations to access appropriate training through a more flexible scholarship system and payment terms. 60% of the scholarships would be reserved for women.
A COMPANY SUPPORTED BY THE PARTNERSHIP BETWEEN I&P AND MASTERCARD FOUNDATION
Since February 2021, I&P has partnered with Mastercard Foundation through its I&P Education to Employment initiative, a blended finance program aimed at improving access to relevant and quality education on the African continent.
The partnership between I&P Education to Employment and Mastercard Foundation specifically aims to support 30 education entrepreneurs in 3 target countries (Ivory Coast, Ghana, Senegal) over 3 years. The partner companies receive funding and technical assistance to support them in their digital transformation, resilience, and growth strategy as well as in the implementation of social inclusion and employability measurement mechanisms.
Read more
I&P Education to Employment program