Ecoclair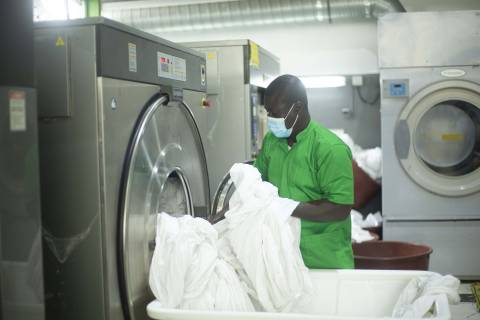 Associed fund
:
I&P Accélération, I&P Accélération au Sahel, I&P Développement, Comoé Capital
Entrepreneur
:
M'bim Lou Josette Kouadio
Eco Clair is a company specialized in industrial laundry services for hotel complexes, businesses and industries, and individual clients. Today, the company has a processing capacity of more than 4,000 pieces of laundry per day and counts among its customers the Airone company and the Accor group.
THE ENTREPRENEUR
M'bim Lou Josette Kouadio holds a BA in Psychology from Cocody University and a DESS from CAMPC - University of Cocody. Before launching the company Eco Clair, Ms. Kouadio held several positions, including Assistant Head of Personnel for the Sococe group in mass distribution and Head of Personnel for Quick Net Service (RMO Group).
COMOE CAPITAL'S CONTRIBUTION
Ecoclair is supported by the I&P Acceleration in Sahel program, set up by Comoé Capital in Côte d'Ivoire, which will enable it to acquire chip bedding and electronic linen reading equipment. The company will also benefit from the support of several consultants who will help train local employees to fully internalize maintenance, as well as upgrade teams to obtain quality and/or environmental certification.
In terms of impact, the company expects to create 22 new jobs by 2022.
About Comoé Capital

Comoé Capital is the first impact investment fund dedicated to the financing and support of Ivorian SMEs and start-ups. Headed by Issa Sidibé, Comoé Capital is the fifth African fund sponsored by Investisseurs & Partenaires as part of the I&P Développement 2 fund. The fund network currently includes a fund in Niger (Sinergi Niger), Burkina Faso (Sinergi Burkina), Senegal (Teranga Capital) and Madagascar (Miarakap). →Site of Comoé Capital.