Etudesk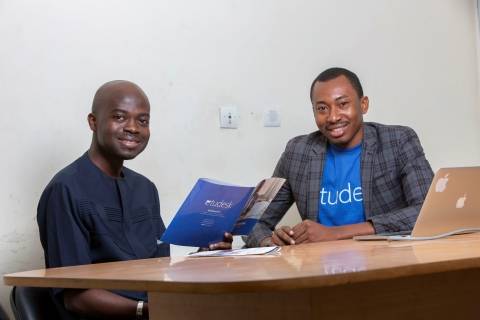 Status
:
Capital investment
Associed fund
:
I&P Accélération, Education Impact Fund, I&P Accélération au Sahel, Comoé Capital
Entrepreneur
:
Lamine Barro
Etudesk is a start-up offering online professional training through its interactive platform. The courses offered are strictly professional in nature and cover a wide range of learning areas: Business, IT, Economics, Civil Engineering, Science, etc. Etudesk defines itself as the "university of companies" and aims to reduce the gap between academic training and the skills required by companies.
The platform is available via PC, tablet and smartphone and without internet connection on mobile applications. It offers:
Short-term training modules (about 2 to 10 hours) covering a specific field and aimed at students and professionals wishing to acquire or deepen specific skills. Each module includes a course structured in several sections with evaluation quizzes and practical activities
Learning programs that are composed of a set of modules. The pathways provide access to a mentor and a final evaluation. A certificate, sponsored by a company, is issued at the end of the program in order to enhance the professional profile of the student if the program is successfully completed
The project has a strong economic and social impact: Etudesk aims to support active people in their career development but also to facilitate the professional integration of students and job seekers in a country with a young population and a high unemployment rate. Etudesk offers high-quality teaching programs (experienced instructors and content reviewed by several professionals) at an affordable price.
THE ENTREPRENEUR
Lamine BARRO is a young Ivorian entrepreneur, who was only 22 years old when he founded Etudesk in 2016.
He holds a Bachelor of Science degree in Biology from the University of Korhogo (2014) and a Certificate of Entrepreneurship from the Founder Institute (2016). Before creating Etudesk, he was a Microsoft Student Partner for several years and has several years of experience as an IT specialist in various firms.
PARTNERSHIP WITH COMOÉ CAPITAL
• Formalization and compliance with accounting standards
• Strategic support to adapt the business plan to the Ivorian context and its competitive environment
• Support for strengthening the offer (creation of new training courses)
• Support the commercial deployment of the company
Etudesk is supported through the Education Impact Fund (EIF), managed by Comoé Capital. This impact fund dedicated to education in Côte d'Ivoire is sponsored by Investisseurs & Partenaires (I&P) and the Jacobs Foundation. It provides financial and managerial support to Ivorian SMEs and start-ups with the aim of improving the quality and/or access to education in the country.
Etudesk also benefits from financial support and technical assistance within the framework of the I&P Acceleration in the Sahel program, in partnership with the European Union. To cope with the unprecedented situation of covid-19, some fifteen companies benefit from technical and financial support to maintain their activities and overcome the crisis.
MAIN IMPACTS
• Access to education for a broad target population
• Facilitates the professional integration of students and job seekers
NEWS AND AWARDS
Etudesk won Seedstars Abidjan Competition in 2016. Read more →
In 2017 Etudesk was one of the five winning companies of the Digital Africa competition, among the 770 French and African startups participating whose projects put digital innovation at the service of sustainable development. As a finalist, Etudesk benefited from an "acceleration pack", composed of technical and financial support provided by the French Development Agency. Read more →